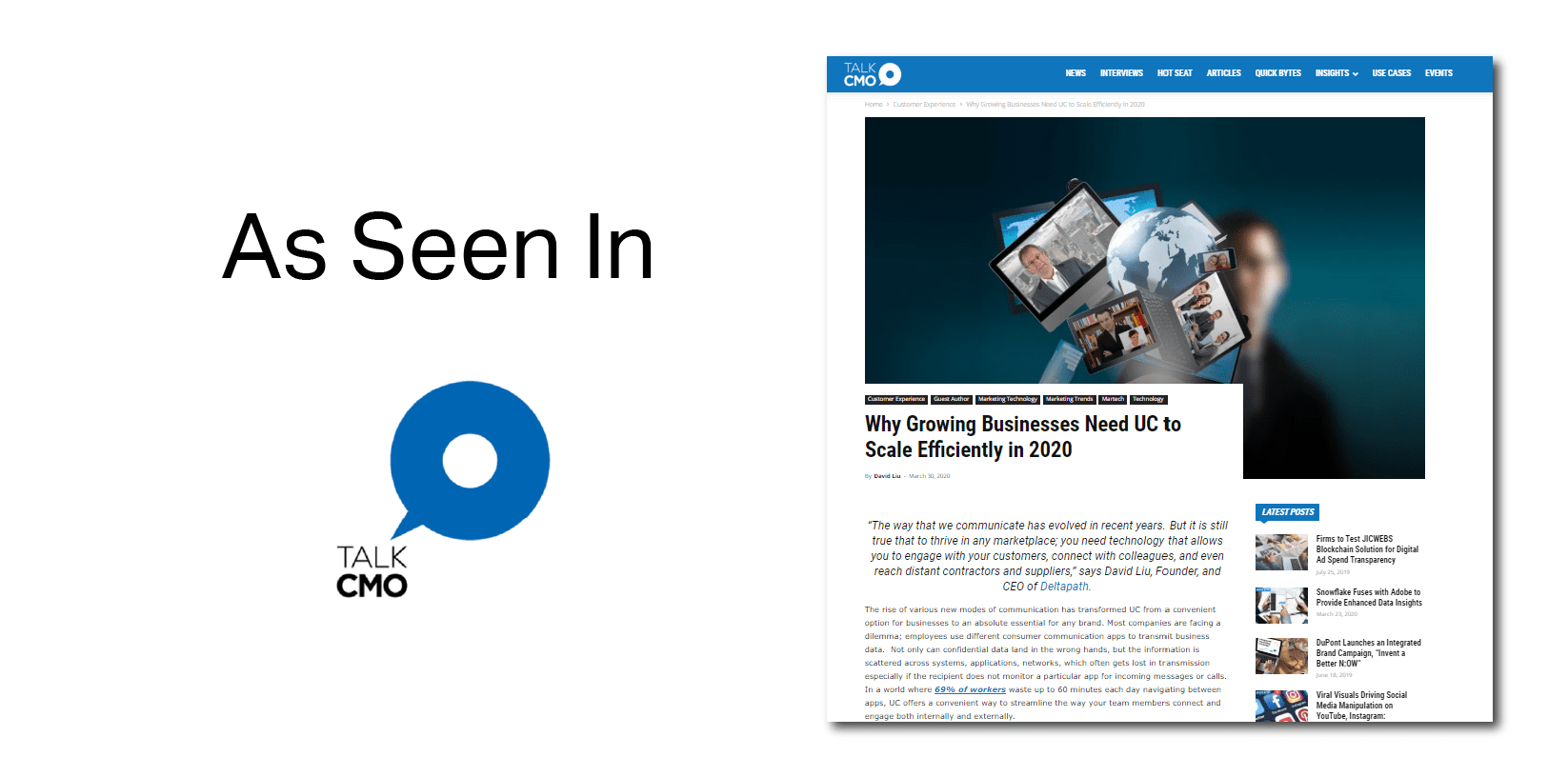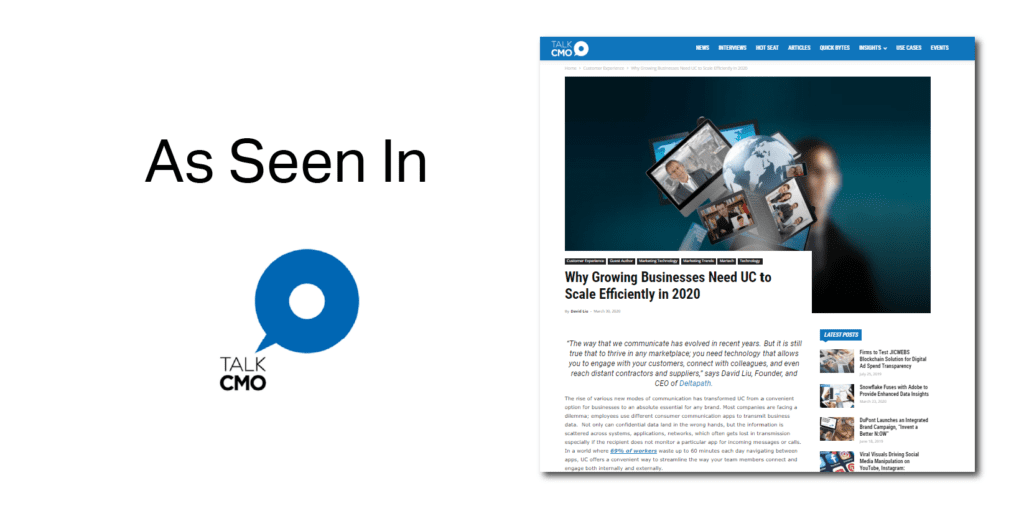 "The way that we communicate has evolved in recent years. But it is still true that to thrive in any marketplace; you need technology that allows you to engage with your customers, connect with colleagues, and even reach distant contractors and suppliers," says David Liu, Founder, and CEO of Deltapath.
The rise of various new modes of communication has transformed UC from a convenient option for businesses to an absolute essential for any brand. Most companies are facing a dilemma; employees use different consumer communication apps to transmit business data. Not only can confidential data land in the wrong hands, but the information is scattered across systems, applications, networks, which often gets lost in transmission especially if the recipient does not monitor a particular app for incoming messages or calls. In a world where 69% of workers waste up to 60 minutes each day navigating between apps, UC offers a convenient way to streamline the way your team members connect and engage both internally and externally.
While unified communication platforms simplify your communication stack, they also allow your employees to centralize communications into a single app, whether it is a business call, a conference, an instant message, push-to-talk, or even an emergency alert. Employees only need to access one application. Equally important, it is easier for companies to secure all business data being transmitted. As the enterprise landscape evolves and the workplace changes with it, a UC strategy will give you the power to flex when you need to.
Cutting Back on Communication Costs and Simplifying Strategies
Consolidating numerous communication tools into a single package reduces the number of bills and providers that you need to work with. A UC strategy also ensures that you can more accurately predict how much you're going to spend each month. Businesses on the cloud can save even more cash by reducing dependency on on-premise hardware. Here, the ToC gets reduced with fewer pieces of equipment to manage, less downtime, and reduced maintenance costs. In the current environment of rapid transformations, UC instills more control resulting in an aligned and cohesive strategy for growth. It integrates video, voice and other modes of communication seamlessly into a company's communication infrastructure.
Upgrade Customer Service and Security
Customer experience is now more valuable than product features or pricing when it comes to reaching your target audience. In an increasingly competitive marketplace, UC allows growing businesses to stand out through exceptional connections with customers. Integrating business applications such as CRM and ERP so employees are all on the same page when a customer calls, allows your employees. to provide a white-glove service. Just imagine the power you give to your employees by having a customer's name, birth date, case number, and other details available when they pick up the phone. Communication is immediately taken to a new level when you can greet a customer by name or wish them a happy birthday because you have immediate access to important data.
Additionally, many UC vendors also offer things like frequent backups and disaster management solutions to keep you protected if the worst should happen. While no business can afford to be the victim of a cyber-attack or fraud, the right UC platform can help ensure companies have proper security in place. It can also help by encrypting all communication channels with industry-standard technology such as SSL, SIP TLS, and STRP.
Customers Demand A Hyper-personalised Experience – Do Businesses Follow It?
While it's easy for companies to say that UC is useful because it "saves money," the truth is that there are so many more advantages of UC than cost savings alone. While it's true that combining communication strategies lead to a lower TCO (Total Cost of Ownership), Unified Communication also gives growing enterprises a strategy to provide better customer experience and therefore grow their revenue and improve their bottom line.
With UC, you can improve workplace productivity, deliver a better quality of service to your customers, and increase your security strategy, and much more. Unified Communications is about relaying the right data to the right person at the right time. An integrated chain of communication allows employees to work smarter by saving time on tedious tasks such as copy and pasting and looking up information in multiple systems. Whether you're a small business just getting started, or a large company amid growth, Unified Communications offers advantages that you just can't ignore.