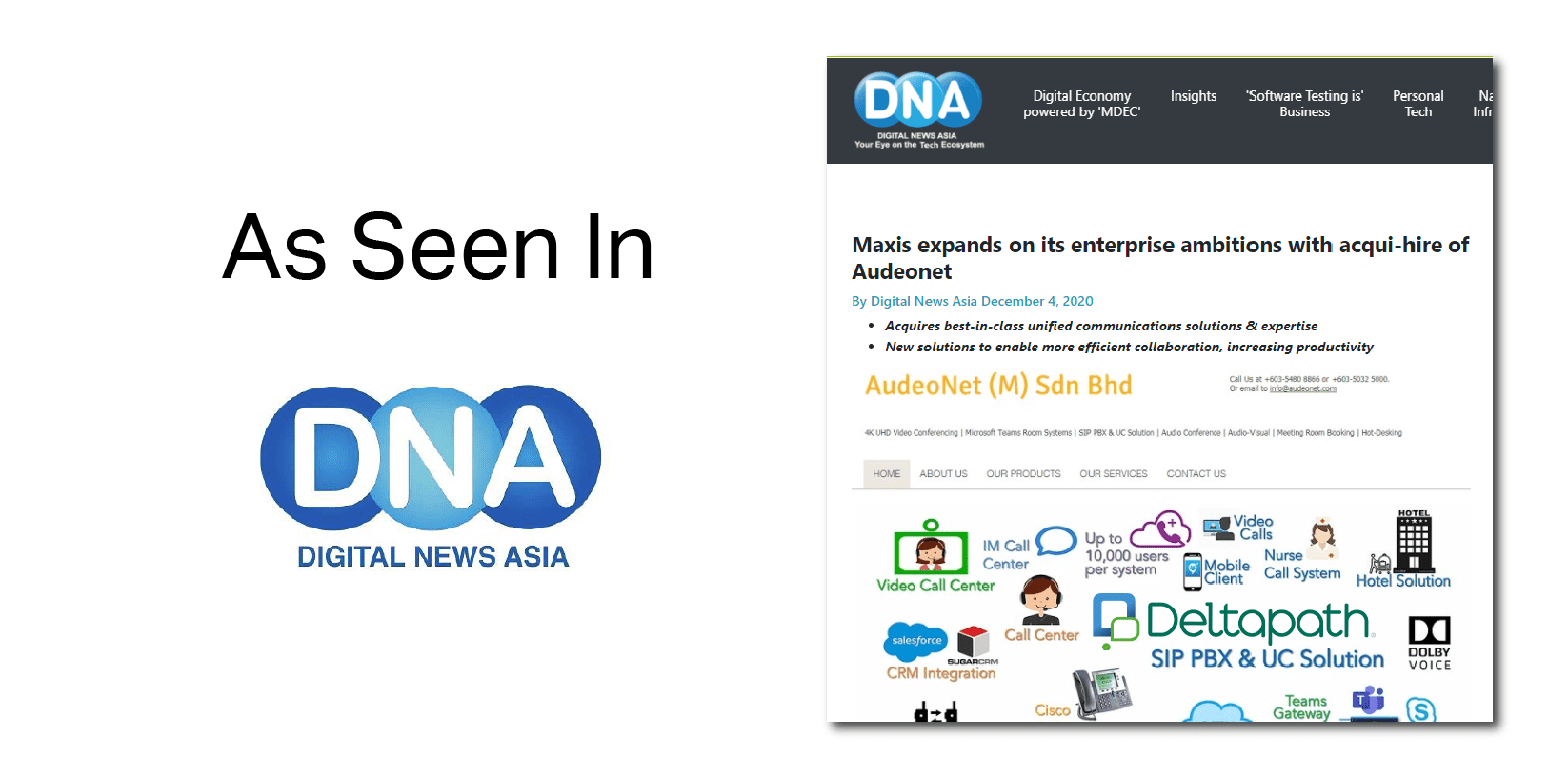 Accelerating its ambition to be Malaysia's leading converged solutions company, Maxis Business has expanded its voice and unified communications (UC) solutions as part of its ongoing commitment to build talent capacity and capabilities in sophisticated solutions for its enterprise segment. The expanded portfolio is driven by the increasing need for greater collaboration in business in the new normal.
The boost in capabilities was a result of Maxis' acqui-hire of Malaysian-based UC and voice cloud solutions company, Audeonet (M) Sdn Bhd for their talent pool of specialist professionals. As part of the agreement between the parties, the transaction value of the acqui-hire is not disclosed.
Audeonet was established in 2002 with a highly skilled team of certified IT professionals supporting the end-to-end deployment of their solutions, including installation, technical support, cabling works, training or extended maintenance services. Their proven track record has spurred the company's steady growth over the years.
This integration of Audeonet into Maxis follows the successful acqui-hire of Infrastructure Consulting & Managed Services (ICMS), a Microsoft Gold Partner and cloud solutions company, earlier this year.
"The modern workforce was already drastically changing even pre-Covid 19 days. And now with remote working being a default work approach, effective collaboration and communication have become the building blocks for businesses to be productive. We are really excited about having Audeonet onboard. Their best-in-class technical experts and key partnerships with voice on-premise and cloud telephony providers is paramount to strengthening our services and offerings for enterprise customers. This is aligned with our wider convergence strategy and commitment to bringing the best technologies to enable businesses and the nation to always be ahead in a changing world," said Paul McManus, Maxis' Chief Enterprise Business Officer.
The expansion of Maxis' UC and voice capabilities will provide its enterprise customers access to a wider suite of industry leading product offerings, enhancing their digital transformation for a productive working environment, both on-premise and remotely, at cost-efficient prices.
This acqui-hire will make Maxis Business the exclusive distributor of Deltapath in Malaysia. Deltapath is a global provider of enhanced Voice over Internet Protocol (VoIP) telephony system solutions. In addition, Maxis Business will be a Gold Reseller of Lifesize, offering cloud-based 4k video conferencing solutions.
These new solutions will be integrated into Maxis Business' current offerings and delivered over Malaysia's leading converged 4G mobile and fixed network, to deliver innovative technologies whilst providing a worry-free network experience.