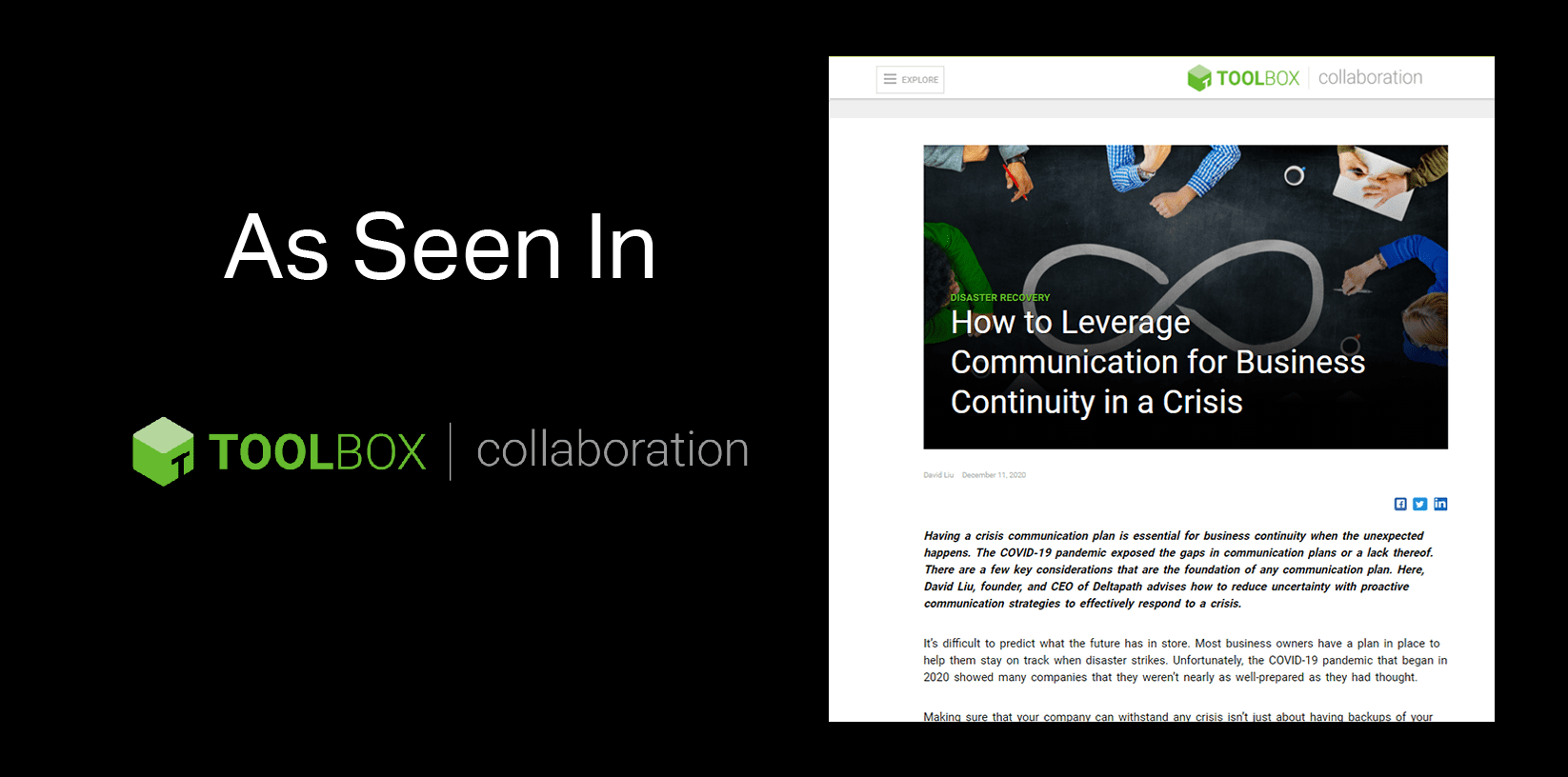 Having a crisis communication plan is essential for business continuity when the unexpected happens. The COVID-19 pandemic exposed the gaps in communication plans or a lack thereof. There are a few key considerations that are the foundation of any communication plan. Here, David Liu, founder, and CEO of Deltapath advises how to reduce uncertainty with proactive communication strategies to effectively respond to a crisis.
It's difficult to predict what the future has in store. Most business owners have a plan in place to help them stay on track when disaster strikes. Unfortunately, the COVID-19 pandemic that began in 2020 showed many companies that they weren't nearly as well-prepared as they had thought.
Making sure that your company can withstand any crisis isn't just about having backups of your files on the cloud or making sure you're ready for a data breach. As most organizations discovered during 2020, it's communication that dictates whether a company will survive a sudden change. 
Communication Keeps The World Turning
When the COVID-19 pandemic stuck, companies everywhere were suddenly facing a series of communication issues. First, they needed to connect with employees that were no longer able to gather in office environments.
Though 50% of the workforce was already expected to begin remote work in 2020, most organizations hadn't put the right strategies in place before the crisis hit. That left most business leaders scrambling to create a secure and flexible cloud environment for their team. 
All the while, consumers were demanding more communication, too, while contact centers and customer service teams were shutting down.
The overall email open rate in March 2020 was extraordinarily high (around 55.3 million unique opens). At the same time, customers were making more phone calls to find out as much as they could about postponed appointments, deliveries, and refunds. 
Real-time, relevant, and convenient communication became the only way to survive during the pandemic. Yet, even as the dust settles and companies find their way back into the workplace, many don't have the right strategies in place to protect them if a similar crisis should ever happen again. 
How to Prepare Your Communications Strategy for a Crisis
Having the right business communications strategy in place ensures that you can give customers peace of mind while helping employees to collaborate.
As many organizations discovered this year, it's not enough to simply switch over to the first cloud-based business communication tool you find online. You need to ensure that your communication continuity plan matches your precise needs for security, functionality, and performance. 
1. Start with the Contact Center
Any consumer expert will tell you that customer experience is the driving differentiator for brands today. Although clients in the COVID-19 crisis did show some patience for their favorite brands as they switched to new communication styles, that patience doesn't last forever.
Maximizing your resources and making sure that you have the right tools available is crucial for business continuity. Start by thinking about the kind of contact center tools you have in place. Would a cloud-based mobile contact center allow your employees to offer the same customer service to clients when working from home?
Does your contact center come with back-end tools to help the virtual workforce? For instance, real-time interactions between agents and supervisors can help to make challenging calls easier when team members aren't in the same environment. 
The right contact center solutions can even make it easier to organize your workforce. Routing software can intelligently send calls to the agents with the right skills to solve problems so that you can get through conversations faster.
2. Bring UC into the Cloud
Most organizations were already embarking on a journey of digital transformation before COVID-19 began. The pandemic's rise accelerated this process, forcing companies to think more carefully about how they can take advantage of flexible all-in-one tools, like the cloud. 
Finding a communications provider that can give your UC technology in the environment that suits you is crucial to being prepared for the future. Choose a provider who can build proprietary communication technology from the ground up and offer you innovation and flexibility where you need it.
As many companies also discovered during the Covid-19 crisis, it's often helpful to have all of your tools in the same environment. This gives you a single point of truth when you're trying to gather data about which communication strategies are working best for your team.
Finding the right cloud fit can be complicated at first. However, the right provider should help you to find a strategy that suits your security and compliance needs while ensuring that you have the flexibility required to evolve. 
3. Learn and Grow Whenever Possible
Crisis situations like the COVID-19 pandemic push companies to adapt and transform their strategies at an incredible pace. Analyzing the trends and statistics on your contact center or UC cloud technology will give you an insight into how you might be able to progress going forward.
For instance, you might notice that you get a higher volume of calls at certain times or during specific days of the week. This will allow you to add extra people to your call center during peak times with mobile workers and remote employees. Real-time analytics can even show you which agents need the most support during difficult calls. 
Analytics and insights will help you to develop new FAQs and support systems so that customers can serve themselves when possible too. At the same time, when you know which issues your customers are the most concerned about, it's possible to upgrade your IVR systems, create new flows, and make sure that the right customers get in touch with the correct agents.
Monitoring and analyzing every interaction in the contact center is the perfect way to not only adapt during times of crisis but prepare for any future eventualities too. 
Communication is Crucial in a Crisis
Communication will always be at the heart of any successful company. However, when the world is moving through a period of uncertainty, ensuring you have the right communications strategy in place is even more essential.
Finding a flexible, scalable, and customizable way to ensure business continuity in the cloud is crucial for today's companies. Even as we return back to the office after lockdown restrictions begin to soften, it's crucial to understand the continued importance of having the right business communications system in place. If you haven't taken the right transformation steps to prepare your communication stack for anything, now is the time to get started.