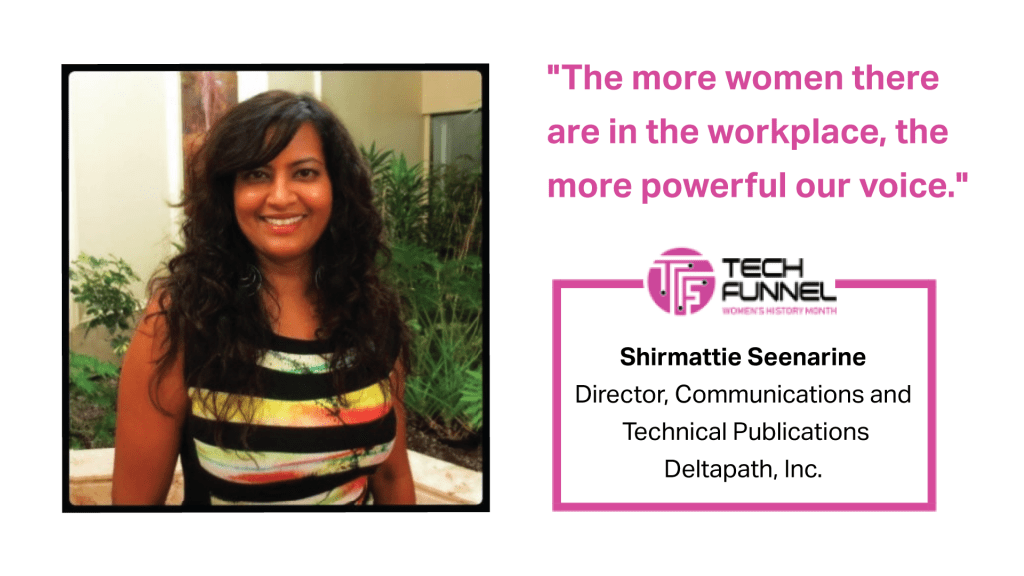 Women's History Month Interview Series 2019
TechFunnel.com's interview series for Women's History Month celebrates female executives, CEOs, business owners, and creators across various industries.
Shirmattie Seenarine , Deltapath's Director of Communications and Technical Publications, was interviewed by Bython Media's Content Director, Danni White. In this interview, Shirmattie shares what a typical day looks like for her, the impact of having more women in the workplace has on society, and what inspired her to become a writer.
As a believer in making every word count, Shirmattie delivers content that captures a company's mission statement and value proposition while facilitating customer acquisition and retention. She also creates brand awareness by building a company's social media presence, delivering website content, writing press releases, marketing materials, keynote speeches, and content for other projects.
Before devoting herself full-time as the Director of Communications at Deltapath Inc., a unified communications company in Silicon Valley, California, Shirmattie had a successful track record as a technical communications writer, published author with SAMS Publishing, and has written many articles for Techtarget.com. Her diverse experiences and extensive skillsets stem from working in many industries: financial services, high tech, public sector, and internet startups. Shirmattie is also a strong advocate for diversity and inclusion in the workplace and is heavily involved in the community.
View Shirmattie's interview with TechFunnel below.