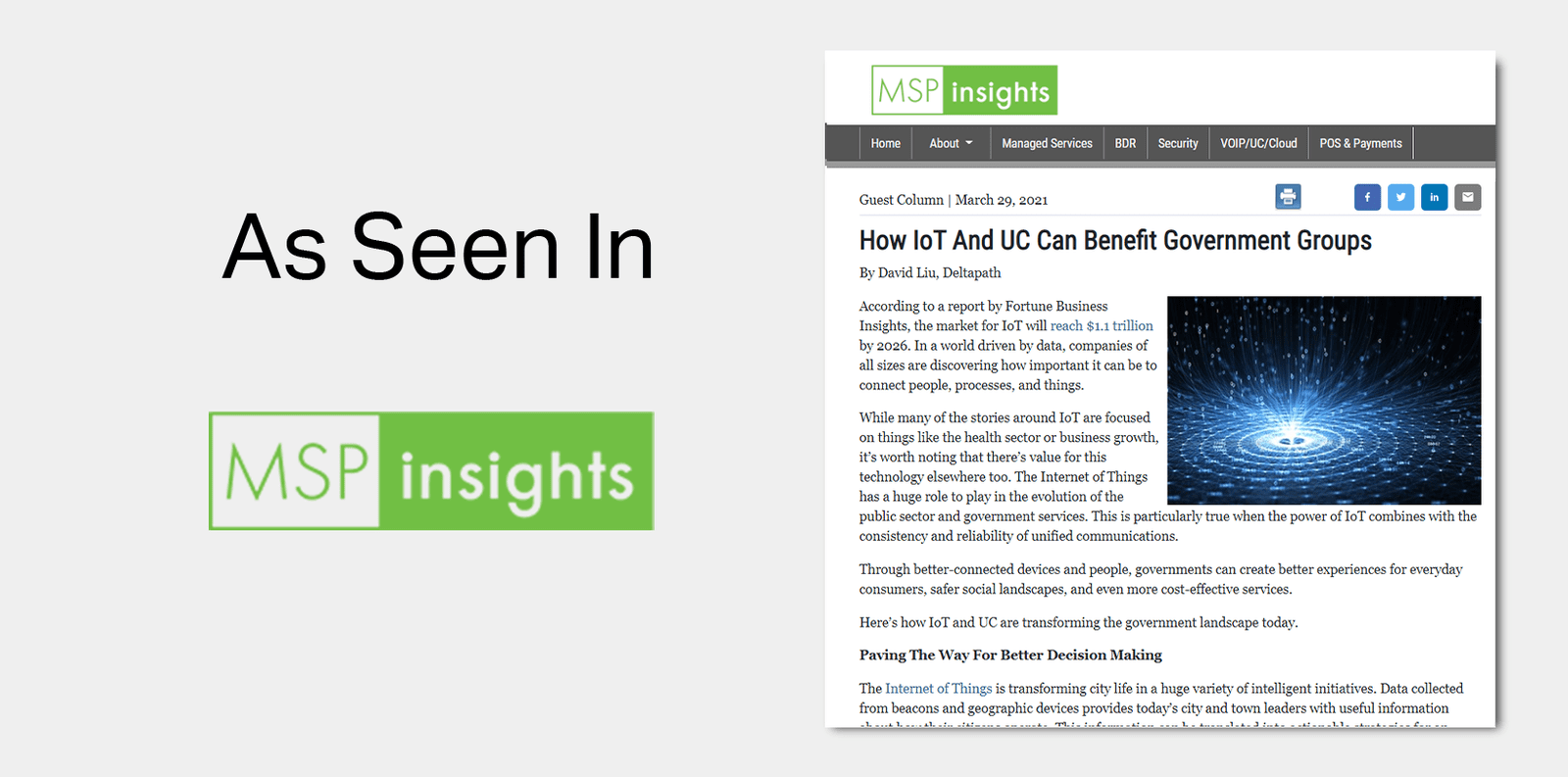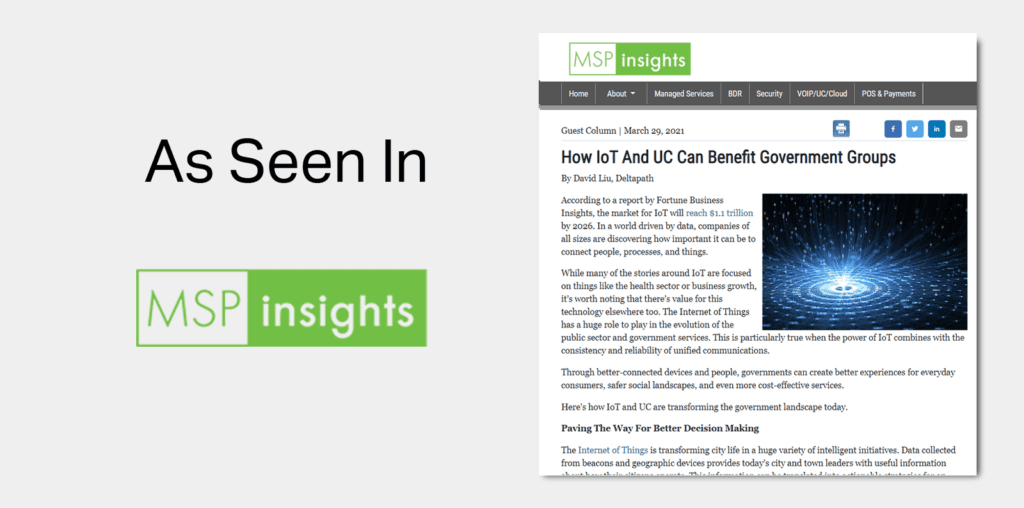 According to a report by Fortune Business Insights, the market for IoT will reach $1.1 trillion by 2026. In a world driven by data, companies of all sizes are discovering how important it can be to connect people, processes, and things.
While many of the stories around IoT are focused on things like the health sector or business growth, it's worth noting that there's value for this technology elsewhere too. The Internet of Things has a huge role to play in the evolution of the public sector and government services. This is particularly true when the power of IoT combines with the consistency and reliability of unified communications.
Through better-connected devices and people, governments can create better experiences for everyday consumers, safer social landscapes, and even more cost-effective services.
Here's how IoT and UC are transforming the government landscape today.
Paving The Way For Better Decision Making
The Internet of Things is transforming city life in a huge variety of intelligent initiatives. Data collected from beacons and geographic devices provides today's city and town leaders with useful information about how their citizens operate. This information can be translated into actionable strategies for an updated and improved society.
IoT not only brings devices and machines together, but it also allows for data collected from a huge range of destinations to be combined into a single source of truth. This means that it's much easier for leaders to make informed decisions about what their citizens really need. For instance:
Water management: The city of Houston in Texas was losing about 15 billion gallons of water each year from leaky pipes. However, by embedding sensors and intelligent pump systems, the city was able to identify issues immediately, regulate the flow of water and eliminate common problems. Similar strategies in other parts of the world could help with everything from irrigation plans, to water quality protection and flooding management.
Energy conservation: The New York State development and research authority for energy recently introduced a new real-time strategy for energy management. The campaign uses smart meters, sensors, and data to improve energy usage automatically in commercial buildings. This supports the overall performance of the power grid.
Public transport: IoT can even help governments to make better decisions about public transportation. Columbus Ohio recently emerged as the winner of the U.S. Department of Transportation smart city challenge, using $40 million to deploy self-driving electric shuttles around a rapid transit center. The system uses IoT for vehicle-to-vehicle data exchange to ensure safety on the roads.
Improving Citizen Quality Of Life
IoT-enabled networks aren't just useful for helping governments to discover new ways of improving citizen lives. The right solutions also can help groups to identify risks and reduce vulnerabilities in the current landscape.
For instance, an IDC whitepaper into the impact of IoT in public services and government environments highlights the value of IoT beacons for instantly alerting medical experts when people wearing specific wearables are left alone. If a person were out in a wheelchair on their own and lost consciousness, local beacons would be able to call professionals to that person's aid immediately, without needing them to press a button on a device.
Already, we've seen examples of how IoT and UC can improve the quality of life of patients in a healthcare environment. The Toppan printing company's IoT mattress in Japan monitors the temperature and heart rate of each user, sending instant alerts to nurses and care providers. Through the Deltapath Acute app for Unified Communications, team members can be alerted to a patient's status instantly, allowing for immediate care when support is needed most.
This technology can extend out into various aspects of government space. Public services groups could even use sensors and IoT devices to monitor traffic lights. This would mean that if anyone is ever hit by a car at a crossing, they get the immediate attention they need through an alert sent directly to the emergency services. Governments also can use sensors to track everything from air quality to sound levels – offering an insight into the steps that need to be taken to improve the quality of life in each city.
Disaster Management
Governments are responsible for preventing and dealing with both man-made disasters and natural ones. IoT and UC can help significantly with these tasks and make it easier for governments to preserve human life during difficult-to-predict events.
Early-warning systems are already in development that use things like sensors to predict when weather-based issues may be on the horizon. These tools can identify when an upcoming storm or hurricane is likely and send alerts directly to the relevant groups in the public service industry. Additionally, IoT sensors also can be set up to immediately send notifications to teams when disasters do happen so that experts can be on the scene as quickly as possible.
IoT tools combined with unified communication solutions mean that team members responding to a disaster can stay in contact with each other on multiple channels. Groups could even access solutions like the Deltapath inTeam application to extend the benefits of push-to-talk services in critical and time-sensitive situations. Services like Deltapath inTeam even come with the option to send notifications instantly to numerous users or a single device in an organization when disaster strikes.
Creating More Intelligent Cities
Today's governments are constantly investing in new and improved ways to protect and support citizens in an evolving landscape. The arrival of digital transformation, empowered by things like artificial intelligence, unified communications, and IoT promises a brighter future for citizens in a wide range of environments, if their governments are willing to adopt the right tech.
While the Internet of Things can deliver exciting new innovations in the form of smart cities and towns, it's most effective when it's combined with a strategy for unified communications. For instance, IoT sensors can check railway lines in a transportation system for defects or dangers. However, those sensors become even more useful when they can notify authorities of those problems, and groups can then discuss what to do next using a range of communication devices.
When technology, people, and processes are combined into a more aligned environment, governments can create locations that are safer and more secure for today's citizens. For instance, imagine an IoT-enabled plate scanning system that's built into a traffic signal. The scanner could capture the license plate and details of someone who runs a red light and transmit the information to the closest police officer. That officer can then collaborate with their team on how to proceed using state-of-the-art UC tools, or pass information to a colleague if necessary.
Preparing For The Government Of The Future
IoT and innovative new technology can play an important part in the evolution of many industries. In recent years, we've discovered how everything from sensors to beacons can improve the healthcare and retail sectors. Now, as smart city initiatives become more effective, we're beginning to see just how valuable IoT and UC can be in the government landscape too.
To succeed in the world of tomorrow; however, governments need to recognize that embracing IoT isn't just about embedding sensors into as many things as possible. Groups will need to think carefully about how specific devices and tools in their landscape will interact. Additionally, it's important to think about how team members in the government and public services landscape can communicate when dealing with IoT alerts and collecting useful information.
About The Author
David Liu is the founder and CEO of Deltapath. He drives the company's vision, strategy, and growth as it builds innovative technology to enable people to communicate and collaborate beyond boundaries. Under David's leadership, Deltapath has deployed its flagship products in more than 94 countries around the world. David also spearheads the technical strategy of the company and is dedicated to building a team of world-class engineers to keep Deltapath at the forefront of the industry.