Discussion from execs at leading companies in unified communications
on the topic of Microsoft Teams Bootcamp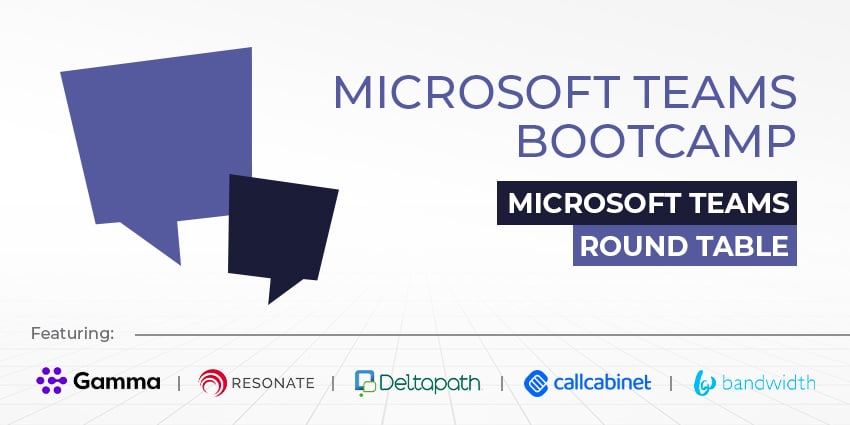 1. What are the pros and cons of Microsoft Teams compared to its competitors?
Harkirat Degun, Product Director at Resonate: "Microsoft Teams' strength really lies with the fact that all the tools you need day to day are integrated into a single application.
"This includes not only the tried and tested Microsoft services but also offers support for third-party applications and solutions.
"With this single pane of glass approach and support for extensibility, it does put pressure on having a robust governance and adoption framework in place.
"In true agile fashion, there are plenty of new features being delivered every month but keeping on top of these without sufficient processes can become quite challenging.
"The best thing is that the service is included as part of all Microsoft 365 licenses which is commonplace in most enterprises, so you won't be paying anything extra to have this great tool as part of your Unified Communication and Collaboration portfolio." 
Jamie Cole, UCaaS Proposition Manager at Gamma: "The great part of Teams is that it's part of the M365 suite and therefore integrated with your productivity tools like Word and PowerPoint. 
"It's also very proven, it's become the go-to for many companies' hybrid working strategy, and Microsoft are continuously developing the product to improve the user experience, so if you choose to add voice to Teams, it is a relatively straightforward adoption story.
"It isn't a completely new user interface for users to get their heads around, making it great for Information Workers. There are also multiple options for deploying Teams voice, giving customers choice but that can be confusing, so it's important to understand each of them.
"The main con is that it is not the best fit in all scenarios for voice, especially if you simply need to make and receive calls from a shared handset it can become cost prohibitive." 
David Liu, CEO and Founder of Deltapath: "Teams is a great asset for communication and collaboration. Video meetings allow communication to flow more easily and give people the feeling of being in the same room when they may be on opposite sides of the world.
"Team members today are often dispersed across different geographical locations. The ability to share content with others during meetings increases engagement and comprehension. Teams, however, takes things a step further by allowing screen annotation with shared content.
"Annotations can help team members keep track of key ideas and questions. It also helps keep participants focused and engaged.
"One other plus is Teams ability to support third-party plugin to provide voice capabilities. As a result, companies do not have to get a Microsoft subscription that supports voice but can shop around.
"One of the downsides of Teams is that it is not supported on standard based H.323/SIP video conferencing systems." 
Lauren Brockman, Director of Product Management, UC at Bandwidth: "Bandwidth powers all the major platforms, so our goal is to enable telephony from whatever platform enterprises want to use. Each UCaaS platform has its own strengths, so it depends on what a specific company might need and the resources available.
"One of Microsoft's biggest advantages is that it is designed as an open ecosystem, enabling the ability to plug in other vendors and services. With Teams, you get the best of what Microsoft has to offer with the additional bonus of a continual stream of innovation from players in the ecosystem.
"Microsoft also makes it easy to bring your own carrier (BYOC), as direct routing was a major consideration from the beginning, allowing for telecom carriers of choice to be accessible for enterprises.
"Teams also offers tighter integration between the Teams admin portal and the carriers through Operator Connect, so BYOC is user-experience friendly." 
Ryan Kahan, CEO of CallCabinet: "Microsoft Teams is easily the world's leading unified communications (UC) platform. In Q1 2022, Teams had over 270 million users worldwide and was growing at a rate of nearly 50% over the previous year.
"Teams' user-friendly interface and compatibility with both mobile and desktop devices has made it easy for many businesses to adopt the platform. This has helped thousands of enterprises offer remote work opportunities, which is vital for enterprises now competing globally for top talent in the workforce.
"However, Teams was built for collaboration, not compliance. It cannot record or store data in a manner compliant with most industry regulations, potentially exposing businesses and their customers to data security breaches, legal disputes, audits, and hefty regulatory non-compliance fines.
"Teams also lacks the ability to analyze voice data, preventing it from providing quality assurance or key business intelligence insights that will improve a business' customer experience."
---
2. How should IT admins plan their migration process to Teams?
Harkirat Degun, Product Director at Resonate: "The migration process depends on what technology you are moving from. You will either be a greenfield organization, migrating from Skype for Business or migrating from a third-party UCC application.
"Each journey will have subtle differences such as defining a coexistence strategy for Skype for Business or Feature Mapping for third-party UCC applications. Planning is the key to success and key elements for all journeys are network assessment, governance, and adoption. 
"You want to optimise your network and set out best practices for remote working to ensure a consistent user experience.
"Ensuring that you setup Teams in the right way and have processes in place to limit common challenges such as Team Sprawl, Guest Access & Data Leakage
"A focus on user adoption and training through initiatives such as champion networks and roadshows.
"Microsoft Partners, such as Resonate, can help you with all these planning and readiness requirements." 
Jamie Cole, UCaaS Proposition Manager at Gamma: "It depends on their starting point; many customers are now using teams for their internal communication and collaboration but have not extended it to Voice or using apps within Teams.
"It is always worth laying out a vision of what you'd like Teams to achieve for the organization. For example, is it simply a tool for meetings and chat or do you want to enable users for voice too?
"Once you have a vision, that will help outline the migration plan including which features and functionality to roll out first and then which to add in later. This will help to understand exactly which tasks need doing and how you want to do it.
"Often customers think about all the technology parts like policies and settings but overlook the adoption.
"Make sure to factor in training and getting executive sponsorship to help bring your people on the journey with you, to help them understand why Teams is being implemented in the business and what the benefits are to them. 
David Liu, CEO and Founder of Deltapath: "Migrating your video conference platform to Teams is generally straightforward as Outlook calendar is natively integrated with Teams on Office 365.
"Companies will, however, need to plan audio dialling options. Additional costs may apply depending on the type of Office 365 subscription a company has.
"If a company has been using standards-based video conferencing systems in their meeting rooms, they will need to source a gateway service to help connect these devices to Teams meeting. 
"Alternatively, companies can replace these devices with a microphone and camera kit for participants who can simply plug these accessories into their laptops."
"Enabling smooth, efficient migration processes is Bandwidth's job. One of the major themes we see with our customers is the importance of toggling between old and new platforms until the migration is complete. 
Lauren Brockman, Director of Product Management, UC at Bandwidth: "Our proven recommendation has three steps: connect existing infrastructure, port numbers, Migrate cohorts to Microsoft Teams, and roll back as needed.
"Connect a SIP trunk to the existing on-prem SIP infrastructure to create a parallel path for all traffic. This keeps traffic flowing to the existing setup during the next step.
"Consolidating phone numbers with a cloud-native carrier gives you software control over every step of the process (it is possible to schedule ports down to the day and minute). Phones will keep working as ports are complete because of the parallel SIP connection in step 1.
"Notice that porting does not mean migrating. Bandwidth separates these steps on purpose, so if rolling back existing systems is necessary, it can be done with software controls."
Ryan Kahan, CEO of CallCabinet: "IT admins need to be aware of the limitations of Microsoft Teams as well as its features. This is especially true if the enterprise operates in a regulated industry such as financial services.
"Additionally, admins need to determine workflows for their Teams users to follow. These may evolve over time, but it is necessary for IT admins and managers to map out workflows to resolve potential issues.
"If your enterprise is moving to Teams for remote work, then it may be necessary to replace your compliance recording system as well. Legacy on-premise recording platforms can't easily support the global compliance requirements of a hybrid workforce.
"A cloud-based platform like CallCabinet is needed for Teams compliance recording. CallCabinet is also able to assist its clients with migrating legacy data from on-premise systems to the cloud, allowing it to finally be analyzed and used for quality assurance and business intelligence as well."
---
3. How can companies choose which are the right Teams voice services for them?
Harkirat Degun, Product Director at Resonate: "The most important thing to determine is your requirements. Microsoft has 3 mechanisms for making external calls in Teams: calling plans, operator connect, and direct routing.
"Calling Plans are licenses that include a phone number with either bundled minutes or pay-as-you-go. They are quick and easy to deploy but come at a cost with limited reach and features.
"Operator connect is an operator-managed service that enables you to leverage existing contracts. It has greater reach and is more cost-effective than calling plans but is still limited in feature/integration capability.
"Direct Routing which is a customer or partner-hosted infrastructure that connects to the PSTN and can integrate features like contact centre and analogue.
"For example, Resonate has a fully managed Direct Routing service that has enabled customers to remove their PBXs. Partners such as Resonate also have migration experts at hand to ensure that voice service continuity can be maintained throughout the migration." 
Jamie Cole, UCaaS Proposition Manager at Gamma: "It's important to understand what you are trying to achieve by implementing Teams voice.
"If the requirement is simply to make and receive phone calls from Teams natively then there is a broad choice including Calling Plans, Operator Connect and Direct Routing or even another app embedded into Teams.
"However, if you have more complex requirements like integration with a Contact Centre the options become narrower.
"Gamma is in a great place to help with guiding you to the right option and meet your requirements because we support all types of Teams voice enablement options.
"We have also used our years of experience to create a Teams Diagnostic tool which will recommend the right option based on scoring pertinent questions during a consultative exercise with our customers.
"We find this helps customers understand which the right option is moving forward for them." 
David Liu, CEO and Founder of Deltapath: "There are numerous voice options. Microsoft offers an E5 subscription with a calling plan. Companies will need to port their numbers over. This option allows companies to centralize their telecom to a single provider, but this option has geographic limitations. Porting is not supported in certain countries outside of the US.
"Companies can opt for Direct Routing and keep their carrier, numbers, subscription, and toll charges the same. A Phone System License from Teams is required. Depending on the carrier, there may be an additional cost to support Direct Routing.
"Companies on a tight budget can opt for a simple integration that is offered by a few UC players in the market. A plugin is used for Teams users to add voice capabilities to any Office 365 subscriptions, including E1 and E3.
"This option does not require any additional license on the Microsoft Teams side. Users can place a call while chatting with someone or independently from the dialler." 
Lauren Brockman, Director of Product Management, UC at Bandwidth: "Microsoft Calling Plans is a great choice for small or medium-sized companies who need something simple and reliable. However, for enterprises that need more control over their telephony, BYOC is often the best option.
"For BYOC, the easiest option for Teams Admins is Operator Connect, which enables enterprises to choose the carrier that fits their business needs, avoid telecom capex and maintenance expense, and accomplish all migration tasks easily through the Teams Admin centre.
"However, for enterprises who have complex call flows and need more control and who have IT teams that know PowerShell, Direct Routing is the way to go. Direct Routing allows enterprises to manage their own SBCs, offering the most flexibility and personalization.
"When choosing a BYOC option, enterprises need a global carrier with high-quality voice and messaging services, who helps navigate regulatory complexities, scales for growth, eases the migration process and offers personalized support at all times."
Ryan Kahan, CEO of CallCabinet: "CallCabinet offers a free guide that helps enterprises answer this exact question. It's available on our website. Specifically, it addresses the questions that a business needs to answer before deploying the Teams platform.
"These questions include: Is your solution Microsoft certified? How does it integrate with Microsoft Teams? How flexible is its deployment model? Does it offer granular controls? Is the pricing per user or per device?
"Deploying Microsoft Teams will likely impact many different parts of your enterprise, so it is essential for businesses to evaluate the systems they currently use and determine how they will engage with Teams beforehand.
"It's important to recognize that it is not only technologies that need to be compatible but business processes as well.
"Choosing Microsoft-certified solutions to complement Teams is a great place to start."