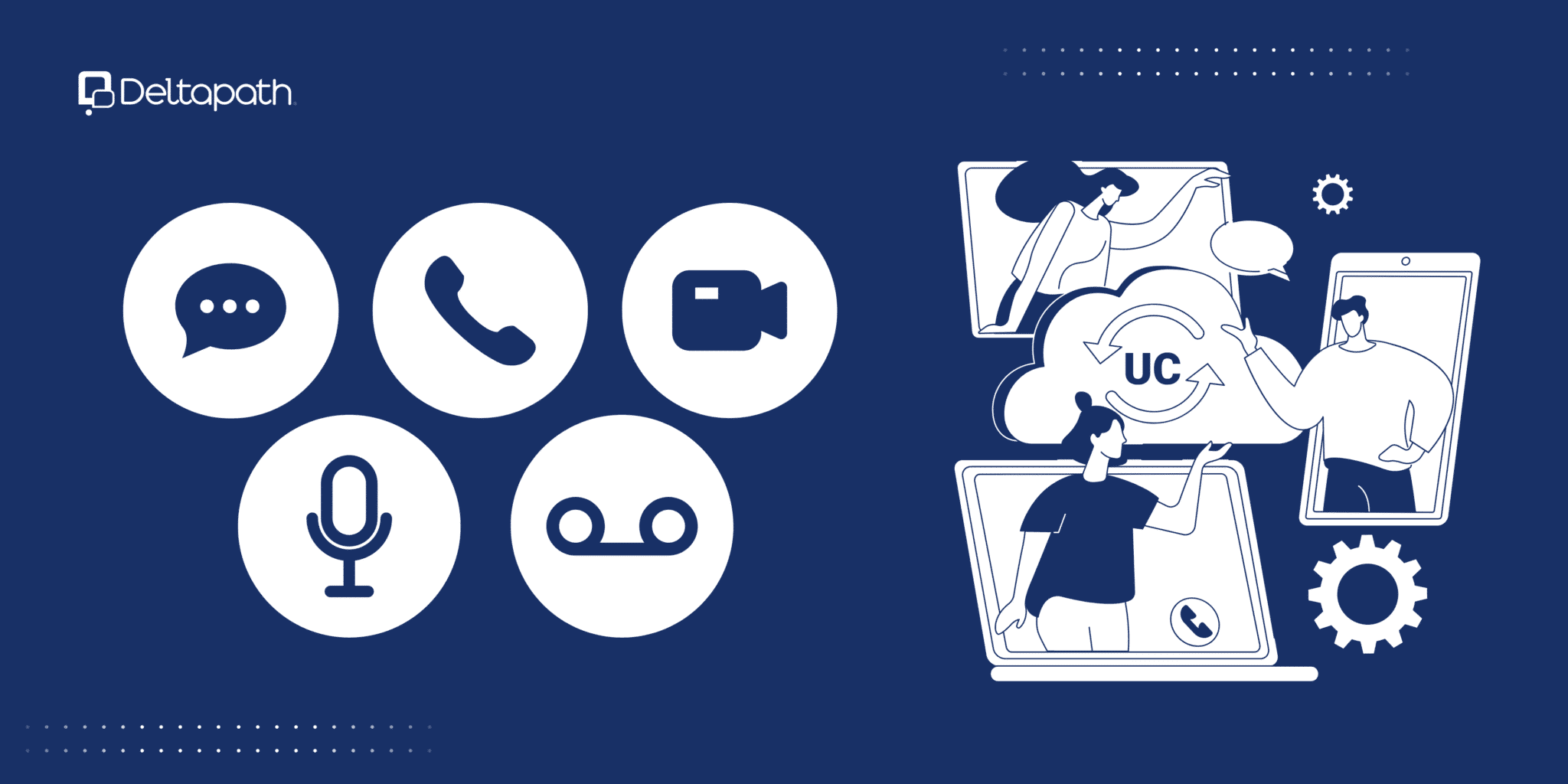 Many people have heard the words unified communications tossed around meeting rooms when discussing communication tools. However, only a few come out of these meetings with a clear understanding of unified communications or UC. This article aims to change that by defining unified communications.
–
Unified Communications (UC) integrates various communication and collaboration tools and technologies into a single, unified platform. It combines communication technologies like file sharing and document collaboration with additional collaboration services like voice and video calls, audio and video conferencing, enterprise instant messaging, and presence information. By integrating different modes of communication into a single platform, productivity is enhanced by providing a seamless user experience across different devices and platforms, and communication workflows are streamlined. Users can switch between different channels and devices while maintaining continuity. Everything is brought together onto one intuitive interface.
–
Through unified communications, companies create a homogeneous environment where everyone communicates seamlessly. Without a unified communications solution, many companies experience communication silos because they use different communication software, equipment, and tools that don't interoperate. Picture one department using WhatsApp while another department is using Telegram. Similarly, picture other offices in different geographical locations using different video endpoints. The result is that essential information gets stuck or lost, and communication and collaboration within organizations fail.
–
1. Voice Communication:
Traditional telephony services, including voice calls, voicemail, and call control capabilities, are frequently included in unified communications platforms.
2. Video Communication:
Video conferencing and video calling capabilities allow for face-to-face communication and collaboration, even when participants are geographically dispersed.
3. Instant Messaging (IM):
Real-time text-based communication enables quick and efficient exchange of messages, allowing individuals or groups to have conversations. For example, enterprise instant messaging can connect a company's entire workforce. Employees can interact using one-to-one chats or group chats. Similarly, companies can use SMS to communicate with their customers and prospects.
4. Presence:
Users' availability and status, such as whether they are online, busy, away, or in a meeting, are reported by UC systems. Presence enables users to communicate more effectively. Employees that are difficult to locate, such as plant managers, might use Presence to notify coworkers of their availability and whereabouts.
5. Collaboration Tools:
UC platforms often incorporate collaboration features like document sharing, screen sharing, whiteboarding, and virtual meeting rooms to facilitate teamwork and collaboration.
6. Mobility:
Unified communications solutions are designed to be accessible across different devices and locations, enabling users to communicate and collaborate while on the move or working remotely. Examples of mobility solutions are a business app on a smartphone or a softphone on a laptop.
7. Integration with Other Systems:
UC systems also interact with other corporate applications such as customer relationship management (CRM) software, email clients, and project management tools to create a seamless workflow and boost productivity.
–
By integrating these diverse communication and collaboration tools, unified communications simplify workflows, reduce communication silos, and enable individuals and teams to work more efficiently and effectively.
Lately, another term has surfaced, Unified Communications as a Service (UCaaS). You may wonder what it is and how it differs from Unified Communications. They are related; however, their deployment models vary.
Unlike Unified Communication which can be deployed on-premises, UCaaS is hosted and managed by a third-party provider in the cloud. If you go with an on-premises deployment, your company manages the infrastructure. With a cloud-based delivery model, you can enjoy all the benefits of UC services while having a provider manage it.
If you are considering a unified communications solution but do not know what kind of deployment is best for your organization, contact a unified communications expert who can walk you through savings, management benefits, compliance issues, scalability, and maintenance pros and cons based on different models.