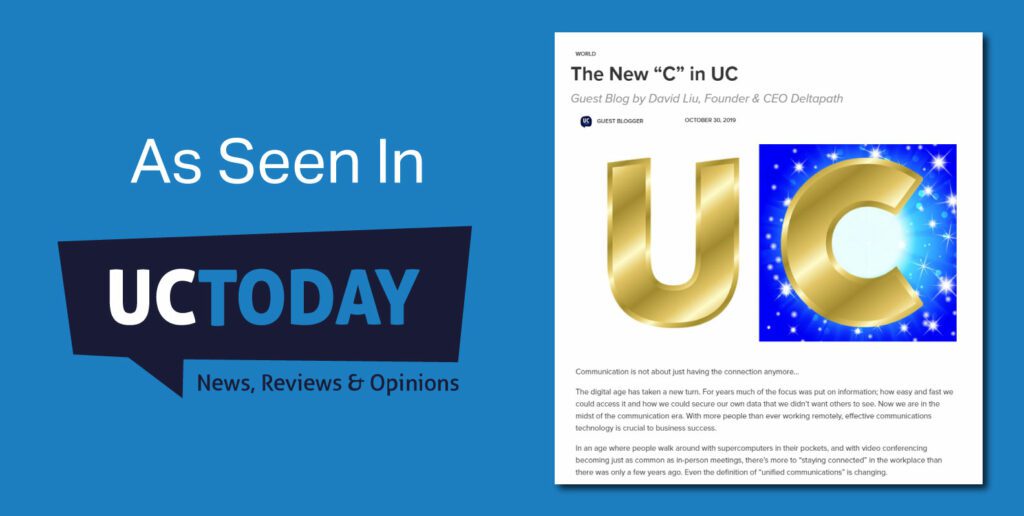 Communication is not about just having the connection anymore…
The digital age has taken a new turn. For years much of the focus was put on information; how easy and fast we could access it and how we could secure our own data that we didn't want others to see. Now we are in the midst of the communication era. With more people than ever working remotely, effective communications technology is crucial to business success.
In an age where people walk around with supercomputers in their pockets, and with video conferencing becoming just as common as in-person meetings, there's more to "staying connected" in the workplace than there was only a few years ago. Even the definition of "unified communications" is changing.
When unified communications or "UC" first emerged on the market, it was a way of connecting people in various unique forms, from instant messaging, to Voice over IP (digital calls), and video conferencing. People wanted more channels for their conversations, and UC could deliver that. However, as the age of communication continues to evolve, we're beginning to discover that it's not just the range of connectivity options that matters, but the quality of those connections too.
UC Demands Quality, Not Just Quantity
The global unified communications market size was valued, by Grand View Research, at USD 56.33 billion in 2018 and is expected to register a CAGR of 16.8% from 2019 to 2025. We are definitely in the new age of communications. The key change being conversational versatility and workflow integration. We've learned that in today's diverse environment, we don't have to stick with audio calls alone when it comes to sharing information. Instead, we can unlock new layers of context within our discussions, through file and content sharing, video conferencing, instant messaging, and more.
However, if businesses want to take advantage of the latest UC trends, there needs to be an increased focus on the quality of the conversations, not just the quantity of channels available. For instance, consider how the protocol for HD voice, G.722 only became popular as a standard protocol in 2008, despite initially being created in 1988.
For communication to be truly unified, agents and customers need to get the same high-quality conversational experience whether they're dialling into a video call, connecting through an instant messaging platform, or an audio call. If you claim to have a UC strategy, but you can only access clear, consistent call quality through audio, then people will only want to connect with you through audio. That means that your other channels become redundant until you can upgrade their quality.
Poor Quality Communications Harm Productivity
Unified Communications offers businesses the opportunity to connect everyone in your team, wherever they might be. An employee stuck in traffic can still tune into a meeting taking place in the office half an hour away, because they still have access to the same collaboration and communication platforms as everyone else. Used correctly, UC can ensure that no-one in your team ever feels isolated or removed from the rest of the group. When you're genuinely unified, collaboration can begin to take place.
However, there are challenges to bringing this environment of genuine unified communication to life. Every day, people in a range of roles, from front office workers to executives, have to collaborate remotely with other people around the world in order to do their jobs. Unfortunately, many workers say that the quality of the communication vehicles is the biggest issue facing their teams. While UC depends on more than just audio and conference calls to keep people connected, something as simple as bad audio quality can ruin your entire UC strategy.
In a face-to-face conversation, the human brain has the potential to filter out background noises like rustling paper and air conditioning, and we compensate for noise during an interview or meeting by speaking louder. To be effective, communication tools also need to adapt to changing conditions/situations. Unified communication platforms can't just provide multiple connection points between two parties; they must be smart enough to adapt to changes in the environment, filter out background noise, and update according to user needs.
With other modes of communication like video conferencing on the rise, it's more important than ever for businesses to get the foundation of their UC strategy right. For instance, poor audio quality will turn even great video conferencing into a bad experience. Limited mobile connectivity means that people on a subway or working remotely will still struggle to stay linked to their team. The quality of the conversation needs to be at the heart of every UC strategy.
The Benefits of UC Done Correctly
In a world where workforces are becoming increasingly dispersed and disjointed, quality communication ensures that your team members can remain engaged and connected. Whether you're hiring remote employees to help you expand your workforce without extra overhead, or you're building a global environment with experts from all around the world, collaboration tools ensure that everyone can work seamlessly together.
Build your UC strategy on a foundation of quality, and you'll benefit from:
1. Better Collaboration
With unified communications, you can bring your team members together wherever they are, whether they work in different buildings, cities, or continents. A unified communication solution provides your team members with multiple accessible ways to stay connected with their team, based on their individual needs. For instance, if someone needs to brainstorm with the entire sales team, they can start group chats with file sharing and video built-in.
With cloud-based sharing solutions, multiple members of a team can also work together on the same project at the same time, without worrying about miscommunications. When there are no gaps in the connections between your employees, you'll soon see the benefits in the form of employee engagement and productivity.
2. Simplified Operations
Unified communications bring all of your business communication solutions together into the same place. That means that team members can waste less time trying to track down the information that they need. You can log call data and email information together to create comprehensive customer profiles and keep better track of meaningful conversations. This has an impact on your productivity levels too, by ensuring that your team members can find the data that they need when they need it most.
According to IDC, the costs of being unable to find the right information instantly can cost approximately $3,300 per employee. With UC bringing all of your disparate conversations together in the same environment, it's much easier to keep everyone on the same page. You may even find that your business becomes more compliant, as you can track down critical records when you need them most.
3. Enhanced Customer Service
The right communication tools aren't just useful at helping team members to work more productively together; these solutions can also help employees to deliver better end-results to customers too. When your employees have the power to request assistance from their colleagues as soon as they need it, or access background knowledge to solve a problem, they can solve problems faster. This leads to better outcomes for today's highly-demanding consumers.
With collaboration tools, your team members will be able to work together with experts from around the world to solve issues for customers instantly, leading to a better reputation for your company and reduced waiting times for your clients. For instance, if a customer contacts an agent because they're trying to troubleshoot a set-up process or assemble equipment, and you have quality communication tools in place, your agents can set up a video conference with the customer. This means that an adviser can see exactly what a customer needs to do to streamline their setup or provide visual guidance to make the process easier.
Put Quality at the Heart of your Unified Communication Strategy
Currently, at Deltapath we're using in-depth algorithms and intelligent tools to combine the quality communication and collaboration world. At present, our algorithm is focused on distinguishing between human and non-human voices. We want to help parents working from home to sound just as professional as their colleagues in the office. In the future, we are looking to integrate with AI engines to learn and understand the context of these human voices and selectively eliminate unrelated conversations such that the person on the phone is protected by an acoustic bubble.