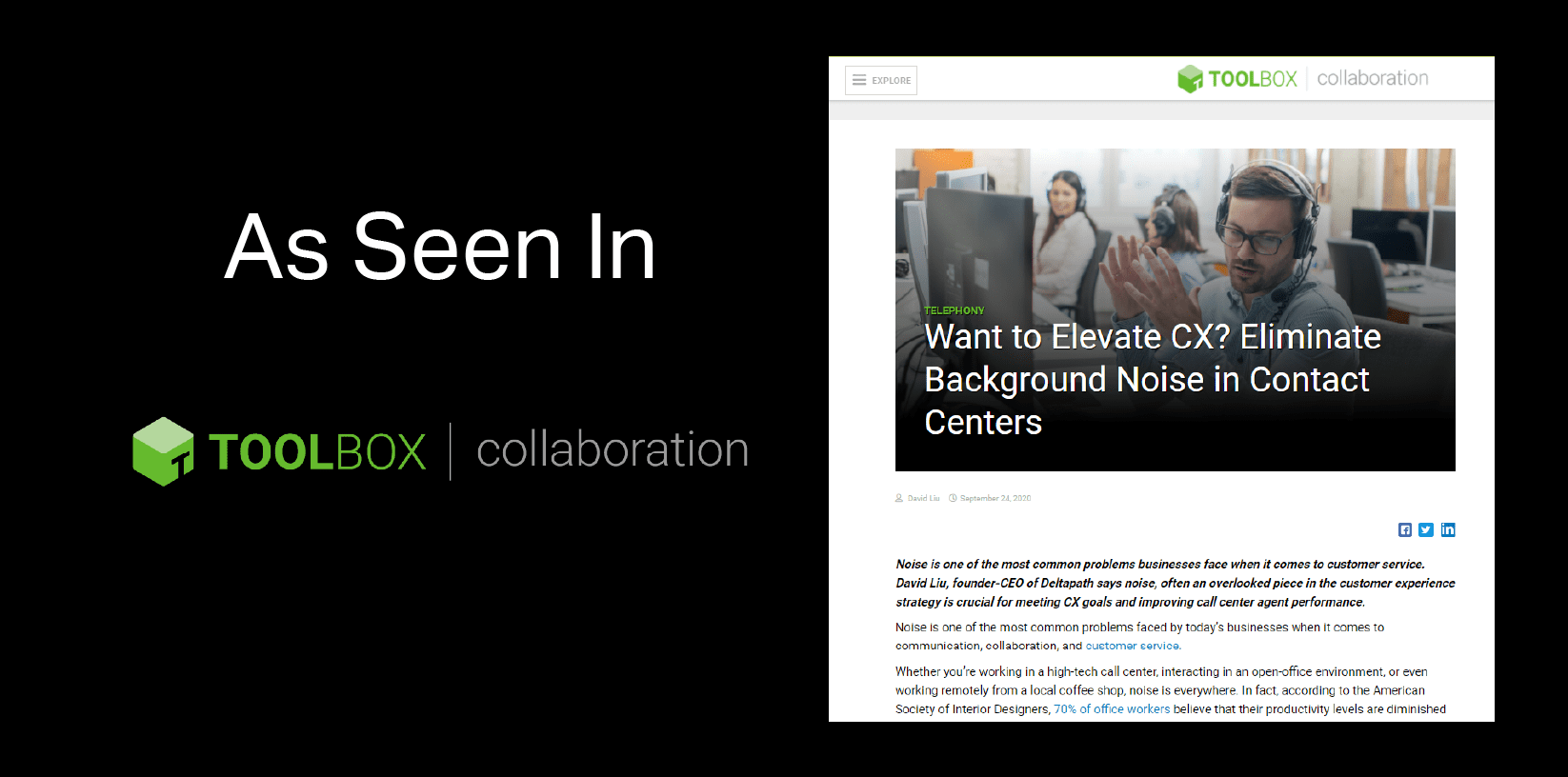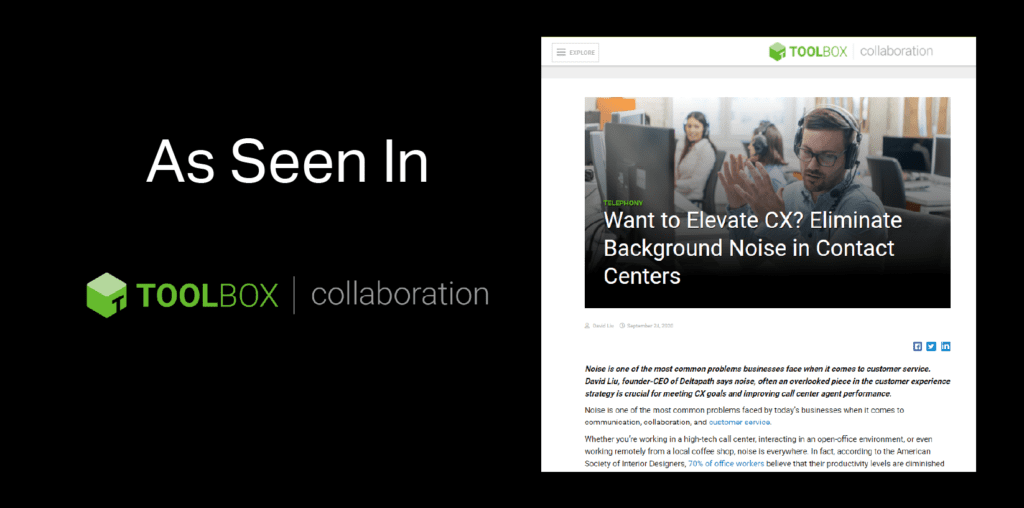 Noise is one of the most common problems businesses face when it comes to customer service. David Liu, founder-CEO of Deltapath says noise, often an overlooked piece in the customer experience strategy is crucial for meeting CX goals and improving call center agent performance.
Noise is one of the most common problems faced by today's businesses when it comes to communication, collaboration, and customer service.
Whether you're working in a high-tech call center, interacting in an open-office environment, or even working remotely from a local coffee shop, noise is everywhere. In fact, according to the American Society of Interior Designers, 70% of office workers believe that their productivity levels are diminished because of excess noise.
Many of us have gotten used to having at least some noise in our surroundings, from the sounds of printers shooting out paper to telephones ringing on someone else's desk. However, the truth is that every extra decibel we're exposed to has an impact on our performance. Not only is the problem of noise detrimental to day's employees, but it can also be a severe problem for businesses that want to deliver the best customer experiences too.
Customer Experience and the Noise Issue
When most people consider the issues caused by background noise, they think about office workers and the distractions that sound can cause. However, background noise in a call center or any discussion between an agent and customer can also disrupt CX too.
Customer experience or CX is now the most important consideration for any business. More than price or product features, it's the experience that determines whether a business will succeed ahead of its competitors or not. Customers are on the hunt for brands that can offer them convenient, efficient, and professional interactions. If they don't get those meaningful moments from you, then they'll be more likely to take their revenue elsewhere.
Background noise in a business environment can easily be transmitted into a phone or through a microphone headset, making it difficult for customers to understand what agents are saying. This lack of clear communication leads to frustration in both clients and agents, who often need to spend more time confirming what's said in a conversation.
Today's customers are living in a world of instant gratification. Studies show that almost 60% of customers will hang up after being left on hold for just one minute. Limited clarity in a conversation means that finding the solution to a problem will often take longer, leading to greater frustration from a customer, and an increased chance that they'll abandon the call before getting the answers that they need.
Since background noise is distracting, often drowning out what customers say, there's a chance that your agent may need to ask clients to repeat themselves too. However, research shows that 3 quarters of customers hate repeating themselves whenever they have an issue with a brand.
Noise Harms Agent Performance
Another way that noise in a conversation can reduce customer experience, is by making it more difficult for agents to deliver the kind of experience that your clients expect. Distracting noises mean that agents might not give customers the degree of attention required during conversations, which leads to misunderstandings.
There's also the issue that agents will need to speak louder to make sure that their voices are heard above the din of background noise in an office or external environment. These raised voices can lead some customers to feel attacked, harming the emotional connection between brands and their clients. Additionally, when voices need to be raised during conversations, customer privacy diminishes, as it's more likely that other people will be able to overhear private information.
In a world where voice continues to be our primary mode of communication, the noise cancellation gateway eliminates the age-old problem of noise pollution in everyday conversations. Ensuring your business uses a noise cancellation gateway can filter out all non-human voices and provide crystal clear sound quality.
Improving Customer Experience One Step at a Time
Better clarity in communications has a range of benefits to offer the modern workplace. Not only does noise cancellation create more productive employees, allowing them to focus on the issue at hand without distraction, but it improves brand image and reputation too. When customers receive clear, noise-free conversations from the businesses that they interact with, this creates a more professional and reliable image for the company.
Customers come to believe that they can trust certain companies to deliver a specific level of quality in every interaction. That means that these clients are more likely to become repeat customers with certain brands because they know they can get the experiences that they need.
Noise reduction can also help businesses to improve the customer experience on a deeper level, assisting with artificial intelligence strategies that improve business outcomes. For instance, many organizations are now turning to speech recognition and voice assistants within their IVR systems. When those artificial intelligence solutions can collect clear data with less noise, it's much easier for them to provide actionable insights through accurate analysis.
AI Powers Noise Cancellation
Whether AI engines are analyzing voice input, interpreting commands in an IVR scenario, or transcribing audio into important text, clarity is the key to success. With noise cancellation, businesses can ensure that artificial intelligence engines can interpret information more accurately than ever. It may even be possible to collect more accurate information about customer sentiment during various conversations, improving the ability of agents and supervisors to react instantly to changes in customer emotion.
The customer experience landscape grows more complex by the day, with new opportunities and technology to explore. However, the foundation of any good CX initiative starts with voice. If businesses can get the noise cancellation strategy in their voice interactions right, then they'll have the right foundation in place for happier customers, more productive agents, and enhanced opportunities.