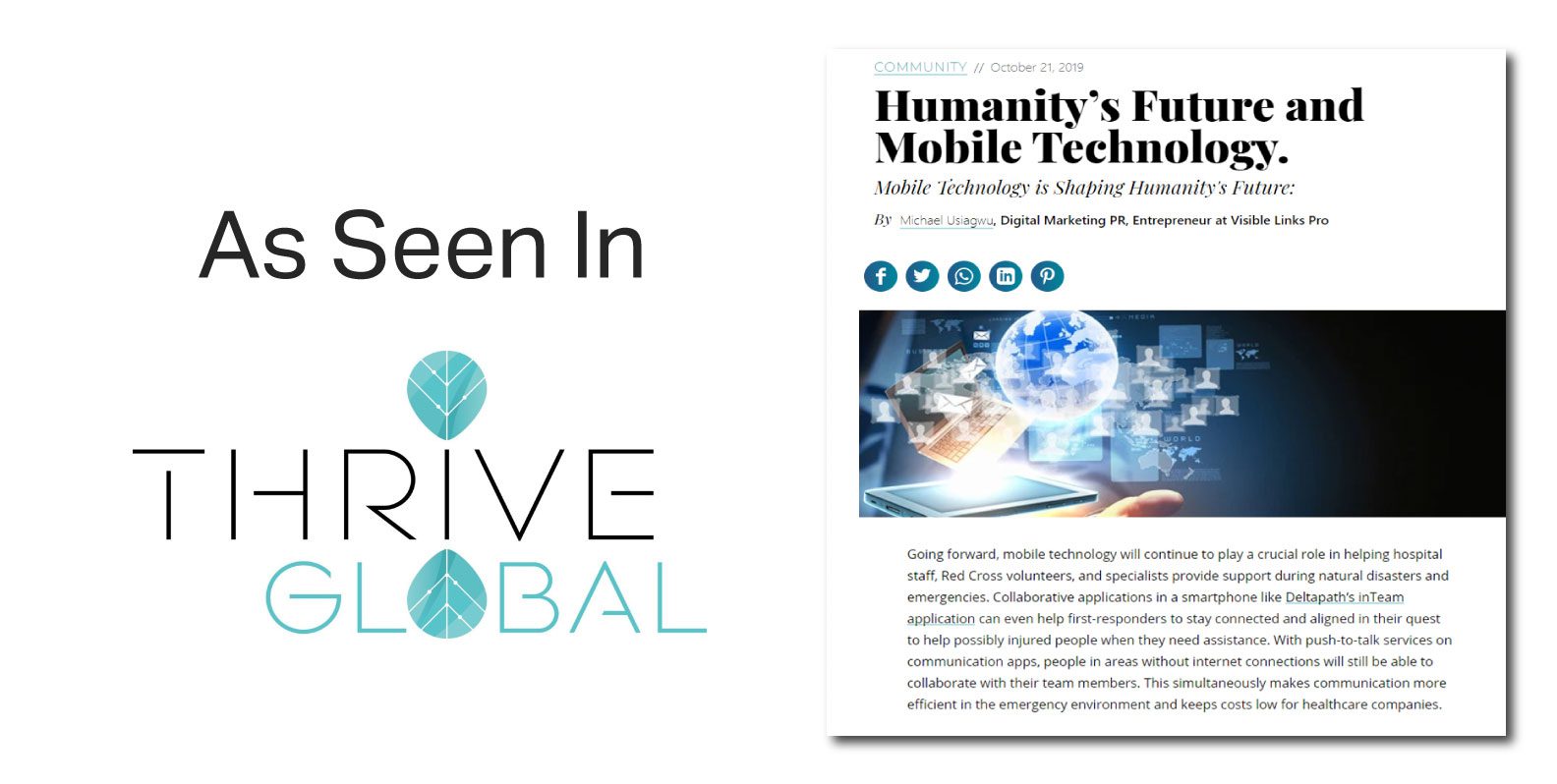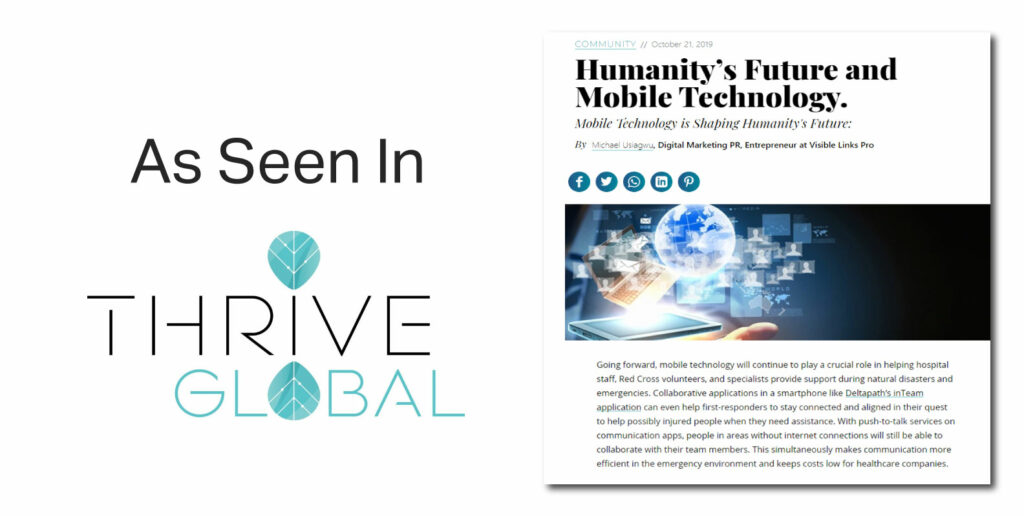 Mobile Technology is Shaping Humanity's Future:
Human beings have come a long way over the centuries.
Throughout time, we've always looked for the most convenient and reliable way to communicate – whether it was through drums and horns, smoke signals, letters, or even in-person conversation. The rise of the digital world has given way to better opportunities for communication than ever before.
Today, we can engage in conversations with people around the world, accessing real-time audio, video, and even text messaging at the touch of a button. Technology has played a pivotal role in making society a better place. The ability to access that technology via mobile devices like tablets and smartphones has changed the way that we interact with others, complete tasks, and even perform at work.
According to Pew Research, more than 5 billion people around the world have a mobile device, and over half of those devices are smartphones. We're living in an environment where it's genuinely possible to be always on, and constantly connected. The question is, what does that mean to humanity as we know it? How does mobile technology serve communities across the globe?
How Mobile Technology Transformed the Planet
The chances are that your smartphone is an everyday part of your toolkit – a lightweight device that you carry with you wherever you go – whether you're at home or at work. Despite being small enough to fit in your pocket, and lightweight enough that you'll barely notice it throughout the day, the smartphone has played a monumental role in shaping human interactions throughout the 21st century.
When the iPhone launched in 2007, we had no idea how significantly the communication landscape was about to change. Mobile devices suddenly became more than just phones or reading devices. Today, our devices are catch-all platforms for education, communication, and collaboration, with functionality that's continually evolving and improving.
The evolution of mobile technology means that everyone now has access to a pocket-sized PC – an environment that they can turn to for information, assistance, and even emergency support. We're beginning to discover just how valuable the smartphone can be when it comes to things like healthcare and emergency services.
The Role of Mobile Technology in Healthcare
Mobile phones allow for easy communication between friends, coworkers, and family members at a moment's notice. Not only can you connect with your tribe through voice with your smartphone, but you can also reach out through video, text message, and social media too. While this reliable access to various forms of communication has many benefits to offer, one of the areas where it can provide the most value is in healthcare.
The rise of concepts like "Telemedicine," which creates digital portals where doctors and patients can communicate at a distance, has transformed the way we think about healthcare. Hospital staff can provide diagnosis and treatment to support people in rural parts of a country without asking them to visit a treatment center. Healthcare companies can reduce the costs associated with keeping teams connected, no matter how globally dispersed healthcare experts may be.
Healthcare portals even allow patients to communicate with physicians via their smartphones, providing instant updates about their condition, complete with information taken from wearable devices that monitor things like heart rate, blood pressure, and more. Qualcomm, a technology company in Arizona, recently partnered with the local healthcare program to use mobile technology to monitor pulmonary and cardiac patients. The patients wear a device connected to a mobile application. This application collects biometric data and sends that information to a physician so that the doctor can provide consistent, informed advice on how to manage a condition. The service also allows patients to set appointments and communicate with care managers through their devices, leading to significantly fewer hospitalizations in the patients monitored.
By allowing physicians to work more effectively with patients in a remote environment, telemedicine solutions can provide a range of benefits for those in need of support. For instance, a mobile medical strategy can help patients to connect more accurately with their doctors when they don't speak the same language through artificial intelligence natural language processing apps and translation. Telemedicine can also protect people in environments where visiting a doctor for certain reasons would cause social stigma by allowing them to set up video conferences with the specialist they need.
From an economic perspective, telemedicine and mobile technology in the healthcare environment can also reduce costs associated with connecting physicians and patients. While telemedicine and apps may never replace trips to a doctor's office or hospital entirely, this mode of treatment has already shown significant promise in reducing treatment costs for patients who suffer from chronic illnesses, both mental and physical.
Using Mobile Technology in Emergency Conditions
Mobile technology also has a significant role to play when it comes to managing emergencies. For years, we've relied on smartphones to ensure that we can access the help that we need when our car breaks down, or something goes wrong. Some mobile phone companies even provide panic buttons and GPS tracking devices with their phones, which makes it easier for responders to reach those in danger.
Going forward, mobile technology will continue to play a crucial role in helping hospital staff, Red Cross volunteers, and specialists provide support during natural disasters and emergencies. Collaborative applications in a smartphone like Deltapath's inTeam application can even help first-responders to stay connected and aligned in their quest to help possibly injured people when they need assistance. With push-to-talk services on communication apps, people in areas without internet connections will still be able to collaborate with their team members. This simultaneously makes communication more efficient in the emergency environment and keeps costs low for healthcare companies.
As new technology like 5G connectivity, artificial intelligence, and IoT connected devices continue to deliver new possibilities to the mobile world, mobile devices will continue to present new ways of serving humanity. Already, two-thirds of the largest hospitals in the US provide access to mobile health apps, and the global mobile health app market is set to reach a value of approximately $111 billion by 2025.
The healthcare environment is just one example of how mobile devices are no longer "just phones," they're crucial tools transforming the way that we connect, communicate, and survive.