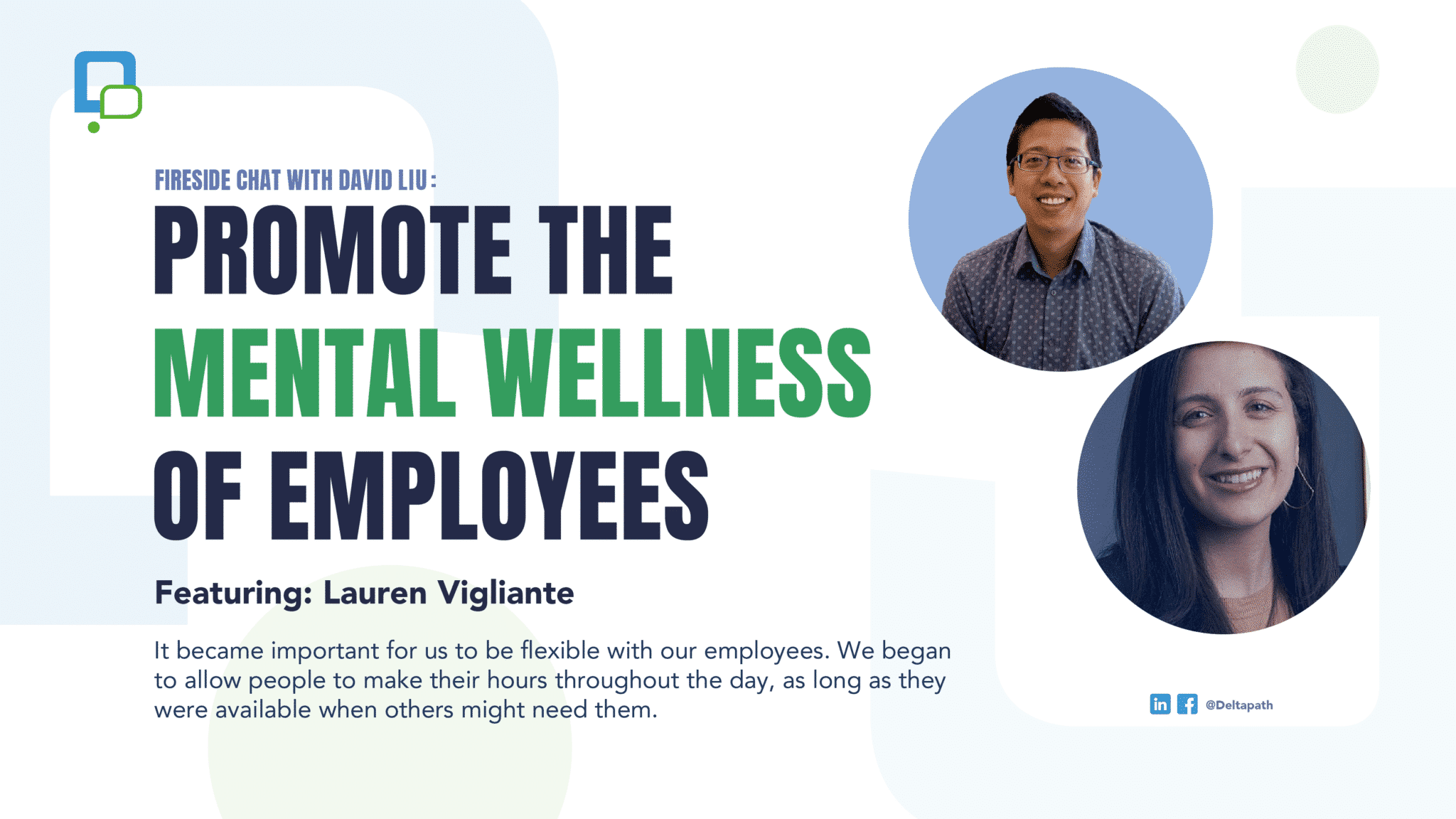 It became important for us to be flexible with our employees. We began to allow people to make their hours throughout the day, as long as they were available when others might need them.
---
Asa part of my series about the "5 Ways That Businesses Can Help Promote The Mental Wellness Of Their Employees" I had the pleasure of interviewing Lauren Vigliante.
Lauren is an accomplished HR leader with experience managing high-growth tech companies from New York to San Francisco.
---
Thank you so much for doing this with us! Before we dive into our discussion, our readers would love to "get to know you" a bit better. Can you share with us the backstory about what brought you to your specific career path?
When I first graduated college, I was working in the fashion industry. I did that for quite some time until I had an 'a-ha!' moment. It often takes time to learn what isn't for you, and that's exactly what happened to me. I looked inside the organization where I was and began to consider what I would want to do next that would align with my core values and true self. In short, I like to do the right thing. I like to do right by people.
That's when I realized HR could be that path for me. When I began to seriously consider a career in HR, I saw it as a profession where I can flex my core values and use that in my practice to make a direct impact in an organization. To begin my career in the space, I first took a recruitment job, knowing it would be a stepping stone to becoming an internal HR lead. And the rest is history!

Can you share the most interesting story that happened to you since you started your career?
I lived in California for five years and knew I wanted to live closer to my family in New York. At that time, I was very big on networking in person. I still believe that it is incredibly important to network in this industry — human is in the name, after all. In HR, it's essential to have a pulse on what's happening in regards to company culture trends, hiring best practices and more.
When I knew I would want to begin the search to get back to New York, I began to really flex my network. I made a point to get out there and network once a month when I was in Silicon Valley. I made all kinds of connections. One woman I met came to visit where I worked, and I went to visit where she worked, and we each got to see unique perspectives of other organizations, which is invaluable in the work we were doing. And then she gave me a call; she told me she was leaving her position as a Programs Manager for HR. And she asked if I would want to interview with the VP at her company. They interviewed me as a candidate, and we got along well, and I felt good about the opportunity.
However, she gave me a call after the interview, telling me she didn't think that job would be a good fit and that I'd be bored with the workload as I had more senior-level experience. Because she saw the potential in me, she instead had me network with all the VCs.
Instead of giving me the job, she gave me that chance. She introduced me to multiple venture capitalists and their talent partners. That was the momentum I needed. I began to network like crazy and have stayed in touch with them for years. That eventually came full circle. When I was seriously looking to move back to New York, the relationships I'd made there helped me to look for my next role and took the time out of their day to send me different positions. That's how I found out about the role I have now. This story just shows how networking comes back full circle. It took years for me to get where I am, but I have the power of connection to thank for that.

What advice would you suggest to your colleagues in your industry to thrive and avoid burnout?
In this world of working from home, when work and life are located in the same spaces, boundaries are how you thrive and avoid burnout. One of my favorite ways to make my boundaries clear is to have blocks on my calendars from 7 a.m. to 8 a.m. and 5 p.m. to 6 p.m. This was something I learned to do after I noticed people were sneaking in meetings there. Those times are for my family, not work. It's okay to not say yes to everything. At times in HR, there's a constant "go, go go" mentality. In those moments, we tell ourselves we can't create that boundary — but you must fight your instincts and lay them down.
This is why it's important to also know that you are a part of a team, and do not have to do everything alone. One of the best ways I've taken care of myself in my work is by trusting my team. It brings me peace of mind on the more chaotic days to know that there are people on my team in place to make decisions and who can work through difficult challenges autonomously.

What advice would you give to other leaders about how to create a fantastic work culture?
I advise others to work on their "growth mindset," ultimately meaning to stay curious. As leaders, we need to question if the way things are functioning allows our teams to reach their fullest potential. The structure of your organization should match the workloads needed for your teams and support the work that your organization is doing. Additionally, it always fares better to be hypersensitive of your employees as you change systems and as you prepare to get rid of what is not working. Remain vigilant, accept feedback, and continuously ask, "Is this still serving us? Is this the best way for our employees to be doing things?" This promotes the culture of a workplace where people feel comfortable coming to leadership with ideas, and feel their time and input are valued.

Can you please give us your favorite "Life Lesson Quote"? Do you have a story about how that was relevant in your life?
The way I try to move through my career is by "being comfortable with being uncomfortable." If you are too comfortable, then you're not learning. For example, in the role I have now, I was just getting comfortable where I was when they offered me the promotion to be the global VP of HR. The choice was easy, with this mantra in mind. I hadn't done anything quite like this before. When I knew I was getting comfortable, I knew it was time to grow into the next big thing, and I accepted the challenge to learn more and make a broader impact than ever before.

Ok thank you for all that. Now let's move to the main focus of our interview. As you know, the collective mental health of our country is facing extreme pressure. In recent years many companies have begun offering mental health programs for their employees. For the sake of inspiring others, we would love to hear about five steps or initiatives that companies have taken to help improve or optimize their employees' mental wellness. Can you please share a story or example for each?
I have been working at Forter for the duration of the pandemic, meaning the last three years have been full of changes and rapid growth. We went from a company of 100 global employees to a company of over 500. During COVID, as we were all in lockdowns and the world was in turmoil, we noticed our employees felt quite challenged. Previously, Forter had a company culture of being in the office, creating a collaborative atmosphere and close relationships among our personnel. When we all had to work from home for the long term, peoples' lives were filled with the chaos of balancing their regular home life with the work they now had to do in their space.
Firstly, it became important for us to be flexible with our employees. We began to allow people to make their hours throughout the day, as long as they were available when others might need them.
Secondly, when we make big decisions as a management team, our people are the focal point. As we became more flexible in the employee's schedules, we still wanted to give our staff a bit more reprieve. It seemed important to give people more life to look forward to than just weekends. Our team successfully implemented employee appreciation days during the pandemic, and after seeing what a wonderful response this got, we made it a permanent benefit in July of last year. The official company policy is now a half-day on Fridays for every week, for all of our go-to-market regions and like Asia, EMEA, and North America. In Israel, where they work Sunday through Thursday, they get two Sundays a month off.
Thirdly, we have launched an internal mobility program. We want to give our employees the opportunities to grow their careers and and focus more on opportunities for growth inside Forter. We have an internal job board that has seen positive responses from our current employees and has successfully seen four people move across teams within a quarter. Giving people the chance to try out new things and options has also received good feedback from those within our organization.

These ideas are wonderful, but sadly they are not yet commonplace. What strategies would you suggest to raise awareness about the importance of supporting the mental wellness of employees?
I would encourage everyone to have an open mind. Most importantly, practice hearing out who you work with, and actually listening in a way where they can tell you care about what they have to say. In that vein, make sure you are recognizing good work. Thank yous and recognition go a long way in job satisfaction as gratitude and praise create engagement across teams.

From your experience or research, what are different steps that each of us as individuals, as a community and as a society, can take to effectively offer support to those around us who are feeling stressed, depressed, anxious or having other mental health issues ? Can you explain?
One of the main things we can do to support others in our communities is to normalize taking days off when there are issues going on. In our society, there is a big push for productivity and ceaselessly performing at a high level when, in reality, this is not always possible. Prioritizing employee's mental health means encouraging your employees to take time off as needed. In some cases, it is necessary to offer extended leaves so that your employees can take care of themselves. At Forter, we try to recognize that rest is a big way to recharge and is essential to all humans' wellbeings. We like to make sure that our employees are using their appreciation days as an attempt to give them space and get ahead of any issues from work-related burnout or stress they may be facing in their personal lives.

This might seem intuitive to you, but it will be helpful to spell it out. Can you help articulate a few ways how workplaces will benefit when they pay attention to an employee's mental health?
I would like to reiterate the importance of recognition in the workplace. When people are struggling, and you recognize their struggles in them, this boosts their engagement and they feel appreciated and respected as a person. At Forter, when we first gave our employees their half-day Fridays, they reported coming back with more clarity and feeling recharged. They get to take the time to do things they want to do (including skydiving!) and know that they are trusted to manage their time to complete all their work in four and a half days.
Behind the scenes, we noticed a shift in their work, as well. As our employees had more capacity, we noticed they gave their work deeper attention. Also, the half-day Fridays helped with recruitment purposes, as people post on social media what they have spent their free time doing. Giving our employees degrees of flexibility and freedom created a two-way street of trust. Both in the quality of work and our employees' overall wellbeing, this initiative has given us positive results ten times bigger than we ever thought.

Do you use any meditation, breathing or mind-calming practices that promote your mental wellbeing? We'd love to hear about all of them. How have they impacted your own life?
I may not do these exercises, but what grounds me is spending quality time with my kids and family. The dedicated time with my family is meditative and serves as a designated period for me to calm down and be present. This is something I value more than taking time alone — that is peace to me.

I work in the communications industry, so I'm particularly interested in this question. As you know, there are a variety of communication tools such as video conferencing, phone, text, and push-to-talk. What changes or improvements would you suggest for these technologies to help foster better mental health?
I would like to see things change in the video conferencing sector. There are so many on-camera meetings now that it feels like a precedent, or social norm, that you always have to be on camera. "Zoom fatigue" should be accepted in our workplace. If the makers of the technology could normalize this, that may begin to make it more socially acceptable. They could incorporate a drop down menu, or allow an optional status for an explanation of why you aren't on camera that day. This could be another small step toward lightening people's mental loads.

You are a person of great influence. If you could start a movement that would bring the most amount of good to the most amount of people, what would that be? You never know what your idea can trigger. 🙂
I think hate is wasted energy, so I would create a movement where we approach things from a lens where everyone knows that everyone else is trying to do the kind thing and is open-minded about what others have to say and who they are.

Thank you for the time you spent sharing these fantastic insights. We wish you only continued success in your great work!
---
About The Interviewer: David Liu is the founder and CEO of Deltapath, an award-winning unified communications company that liberates organizations from the barriers of effective communication. Liu is known for his visionary leadership, organic growth strategies, and future-forward technology. Liu is highly committed to achieving a greater purpose with technology. Liu's business insights are regularly featured in Forbes, Entrepreneur Magazine, Tech Crunch, and more.