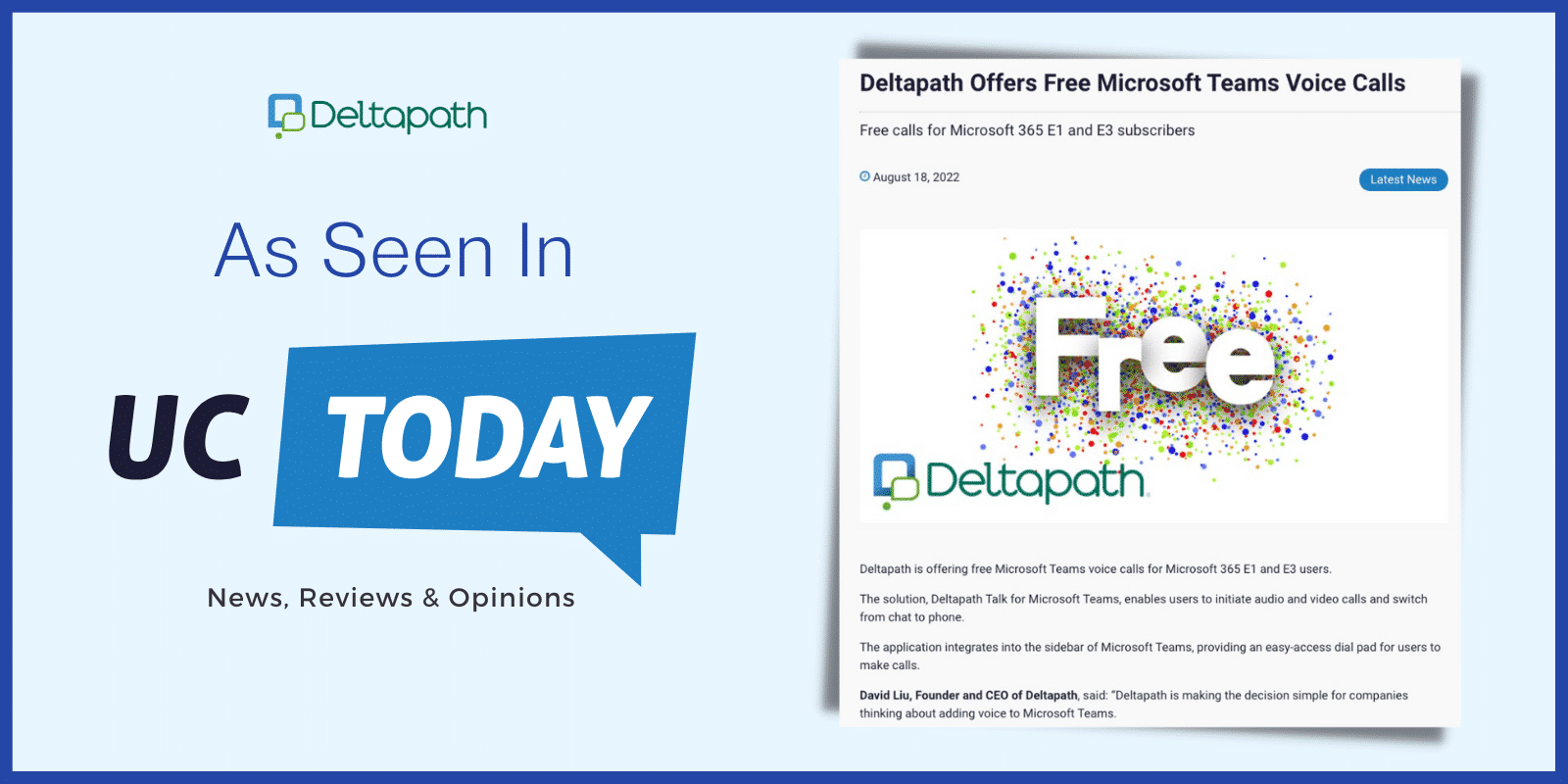 Deltapath is offering free Microsoft Teams voice calls for Microsoft 365 E1 and E3 users.
The solution, Deltapath Talk for Microsoft Teams, enables users to initiate audio and video calls and switch from chat to phone.
The application integrates into the sidebar of Microsoft Teams, providing an easy-access dial pad for users to make calls.
David Liu, Founder and CEO of Deltapath, said: "Deltapath is making the decision simple for companies thinking about adding voice to Microsoft Teams.
"We offer free telephony services to MS Teams users on E1 and E3 subscriptions using the Deltapath UC platform.
"Not only does our offering add voice for free, but companies do not have to purchase a Teams Phone license.
"It is Deltapath's way of helping businesses advance and become more successful without increasing spending during these uncertain economic times."
Deltapath believes some companies are going without voice calling on Teams due to the licensing costs, domestic and international calling plan prices, and software and hardware installation expenses.
Users with an E1 or E3 subscription will no longer need to have these same financial concerns. Furthermore, Deltapath cited some statistics from RingCentral, a cloud-communication provider, which found that phone calls are one of the top three ways consumers like to communicate before and after a purchase.  
RingCentral's study also showed that phone calls were the preferred means of communication among every age group.
According to Deltapath, being able to offer flexible communication options is essential to a business's success, particularly if it is in a competitive marketplace.
It also views telephony as an effective way to add a personalised, human element to the customer communication process, which leads to a greater likelihood of customers acquiring products and remaining loyal to a company.
To operate the Deltapath Talk for Microsoft Teams applications, users simply need to click on the app from within Microsoft Teams to initiate a call.
Users can also change from an audio call to a video call by clicking on the telephone or video icon inside the application window.
Recently, Deltapath has added an omnichannel solution to its Deltapath Contact Center to meet customer demands.
Earlier this year, the Deltapath enabled companies to continue using costly Cisco phones after reaching 'end-of-life'.