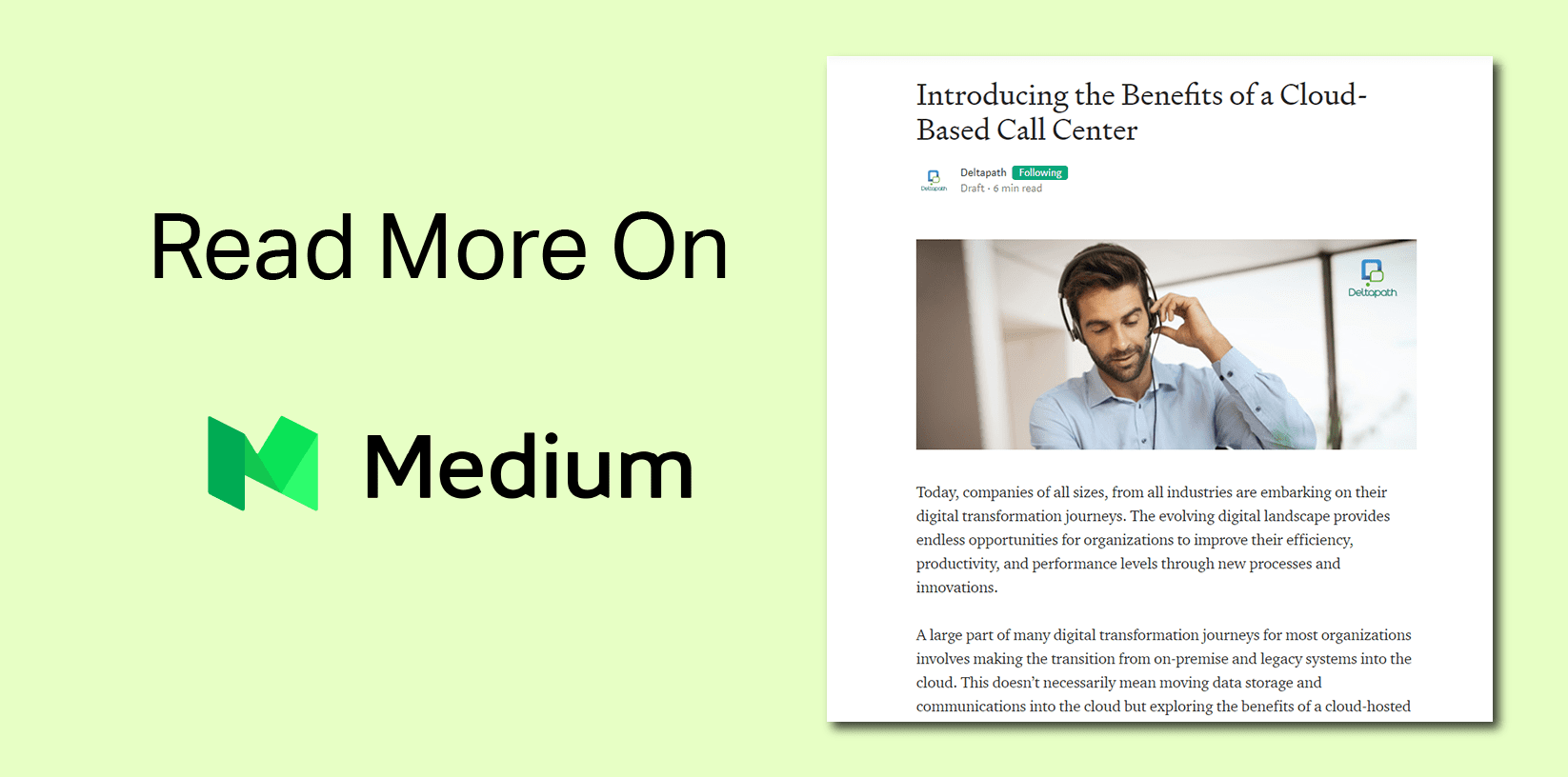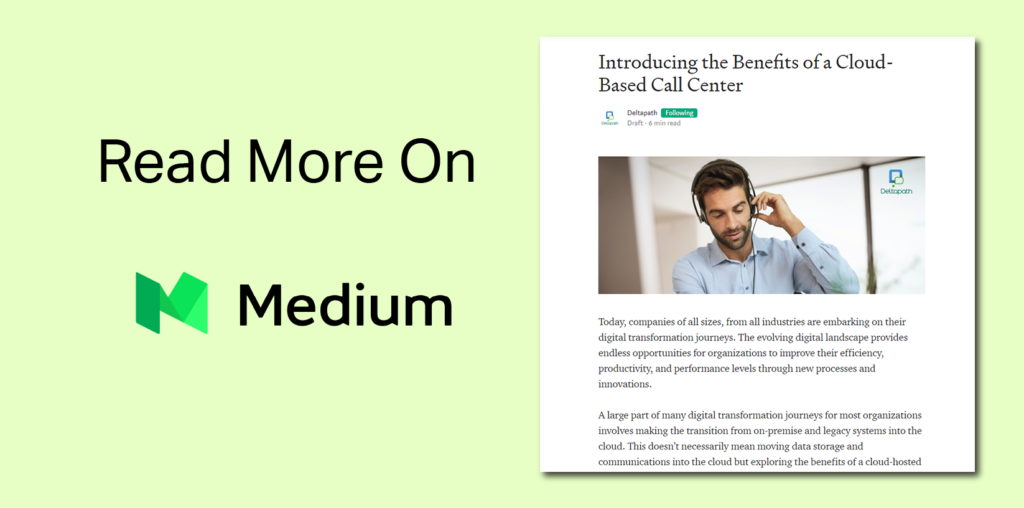 Today, companies of all sizes, from all industries are embarking on their digital transformation journeys. The evolving digital landscape provides endless opportunities for organizations to improve their efficiency, productivity, and performance levels through new processes and innovations.
A large part of many digital transformation journeys for most organizations involves making the transition from on-premise and legacy systems into the cloud. This doesn't necessarily mean moving data storage and communications into the cloud but exploring the benefits of a cloud-hosted call center too. According to DMG Consulting, 62% of organizations have already moved into a cloud-based call center, and the numbers continue to grow.
Cloud seems to be the status quo for businesses of all sizes in the modern customer engagement landscape. But what are the real benefits of making your own cloud migration?
Let's find out.
1. Improved Customer Experience
Customer experience is perhaps the most important thing for any business to focus on in today's marketplace. Today's clients are more impressed by the right experience than they are by the promise of unique features, lower prices, or anything else a company can offer. Unfortunately, legacy contact centers struggle to deliver the kind of meaningful moments your customers need.
One of the biggest benefits of the cloud-based call center is that companies can use their cloud software to connect with customers on virtually any channel, with reduced risk of downtime, lag, and lost call quality. You can use cloud call solutions for everything from intelligently routing customers to the right agent, to making sure that it's possible to accelerate a conversation from instant chat into video. For instance, with Deltapath's mobile video contact center solution, businesses can interact directly with customers from an iOS or Android device, without having to invest in additional office hardware.
With the cloud, there's no limit to the number of convenient channels today's companies can offer their target customer. Since the latest reports into customer communications suggest that after 1 bad experience, 38% of consumers will switch to a different provider, it's crucial to ensure that you're getting your strategy right.
2. Enhanced Scalability
It's natural for the needs of your business to evolve and accelerate over time as your company grows. However, if you have a legacy contact center in place, then you'll be restricted in how many conversations you can reasonably have each day. On the other hand, one of the significant benefits of a cloud call center is that you'll have the freedom to scale up or down according to your needs — without having to worry about extra hardware investments or complicated data centers.
With a cloud-hosted call center, you can add more functionality, additional agents, and enhanced features to your contact center at the click of a button. You might even decide to use APIs (Application Programming Interfaces) to tap into the latest disruptive tech on the market, like predictive analytics and sentiment analysis.
Since you only pay for what you need from your hosted provider, you can access all the tools you need on the cloud, without having to pay for unnecessary extras. You benefit from better real-time interactions between clients and agents, while your customers benefit from superior customer service.
3. Improved Reliability
Harnessing a cloud-hosted call center has countless unique benefits to offer. You can reduce your infrastructure costs by moving your operations into a software-focused model. Plus, if you choose to work with a hosted provider, you can simplify the management that you need to deal with on the back-end too. One of the other great benefits of a cloud call center is that these solutions often provide better reliability than their legacy counterparts.
Since cloud vendors need to support the requirements of thousands of customers at once, you can rest assured that they'll have extensive failover and consistency solutions in place. For instance, at Deltapath, we can offer a 99.999% uptime SLA to our clients, so they can rest assured that they're never going to miss out on a crucial conversation.
What's more, because a cloud-hosted call center is always investing in new tools and updates for the system, you can rest assured that whenever a patch becomes available to enhance your call quality, you'll have access to it automatically. This level of reliability is practically impossible to find in a legacy call center.
4. Better Cost Control
While budget isn't the only thing worth thinking about when you're investing in a contact center solution — it is something that most companies will need to take seriously. A lot of organizations assume that the flexibility and innovation of the cloud mean that it will be more expensive to migrate their systems into a CCaaS or hosted environment. However, the truth is it's often much cheaper to run a cloud-based call center than it is to manage a legacy stack.
When you remove your reliance on hardware and step into the realm of cloud-based solutions instead, you can create advanced contact center environments, without having to spend a fortune. Designing the perfect multi-channel environment becomes quick and straightforward, which is why even small businesses are beginning to launch their communication strategies on the cloud today.
Thanks to APIs and integrations, you can even design a cloud-hosted call center that works seamlessly with your existing CRM, and infrastructure that you don't want to get rid of and more. You may even decide to link your contact center to things like an interactive wall display, where your agents can see their performance in real-time, and business leaders can keep teams motivated.
5. Quality Assurance Through Reporting and Analytics
In any contact center, quality assurance is critical because it allows businesses to gain valuable information about the conversations that take place between agents, customers, and coworkers. The more you learn about the discussions that happen throughout your business each day, the easier it is to make informed decisions about how to transform your company in the months and years to come.
Fortunately, with endless bandwidth and storage on the cloud, a hosted contact center has no trouble collecting useful information for your reporting and analytics strategies. You can set up call recording and call tracking systems that keep you abreast of all the latest details of your incoming and outgoing calls. You may even be able to recognize trends that you can take advantage of when making new investments into your call center.
For instance, if you notice that your customers often prefer to contact you over IM and text rather than using a standard phone call, then you can invest more money into your mobile strategy. If you find that your audience loves high-quality calls, then you can focus on delivering consistently incredible audio with the right technology strategies.
All the while, the security measures that you have in place for your cloud-based call center will ensure that the information you're collecting remains safe and private. You might even decide to use that information to fuel a machine learning or artificial intelligence strategy one day in the future, allowing you to tap into predictive analysis, natural language understanding, and more.
Plan a Roadmap for the Future with a Cloud Hosted Call Center
One of the biggest benefits of a cloud call center is that it allows you to future-proof your business in an environment that's constantly changing and evolving. As technology continues to transform, and customer demands evolve, it's essential to have a strategy in place that allows your business to grow at a rapid rate. The cloud gives you the freedom and flexibility to build the roadmap that suits you, at a pace that's right for your business.
With the cloud, you're free to enhance and upgrade your contact center solutions whenever you see fit. You're not restricted by the technology that you have on-premise. Instead, you can quickly turn any mobile phone or computer into an instant source of connectivity for customer conversations. You'll also have the freedom to add new channels to your contact center environment whenever you see fit, routing customers intelligently, and improving your strategies based on useful data.
The more you learn about your customers and industry, the more you'll be able to make informed decisions about how to run your contact center more efficiently. You may even decide to start running both outbound and inbound campaigns simultaneously.
Could now be the perfect time for your business to embrace the advantages of a cloud-hosted call center?