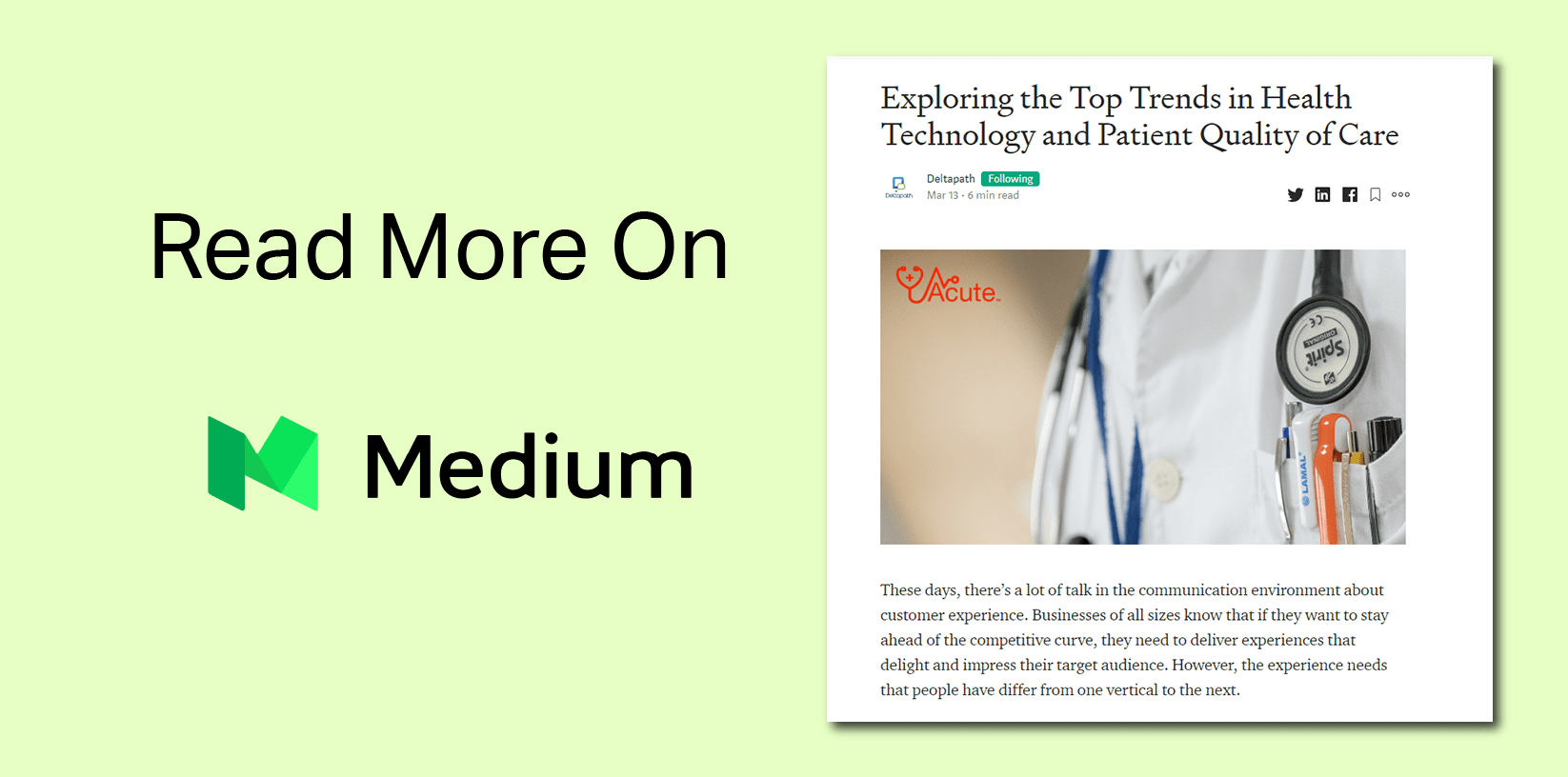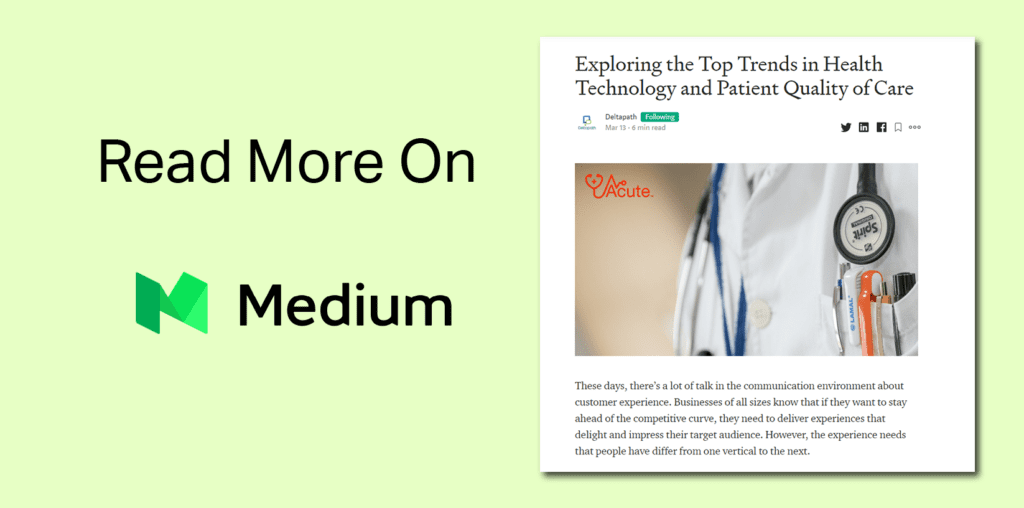 These days, there's a lot of talk in the communication environment about customer experience. Businesses of all sizes know that if they want to stay ahead of the competitive curve, they need to deliver experiences that delight and impress their target audience. However, the experience needs that people have differ from one vertical to the next.
Just as the customer experience in the retail or commerce environment is crucial for driving revenue and brand loyalty, quality of care in the health environment is an equally important consideration for the healthcare vertical. With today's aging population leading to an increasing number of elderly people in hospitals around the world, nurses and doctors are often pushed to their limits. These professionals need to work at practically impossible speeds to keep up with the demands of their patients, and technology may be the only way for them to stay on top of their chaotic schedules.
Here at Deltapath, we set ourselves apart from other businesses in the collaboration and communication space, to become more than just another UC company. Although we serve a wide range of verticals with our advanced video conferencing, push-to-talk, and collaboration services, we have a specific focus on the healthcare environment. We even created our own unique healthcare app to specifically support those in the health industry.
Deltapath's Background in Healthcare
Our background in the healthcare industry has given us a unique insight into the technology trends that are changing the landscape today. For instance, we used our proprietary innovations to create the Acute application — a solution that integrates with hospital nurse call systems to strengthen and improve the link between patients and healthcare professionals.
With Acute, anytime a nurse call button is pressed, the healthcare professional on the other end of the app will receive information about the patient directly to their mobile phones. This brings contextual insights into the care environment, allowing for a higher quality of care, relevant to the needs of the individual patient. During the time we spent developing and enhancing this app, we noticed that there are a few significant trends driving the creations in the health technology space.
Access to Real-time Information in The Healthcare Industry
Perhaps the main driving force behind many of the innovations in the healthcare industry today is that professionals need to be kept continuously aware of what's going on with their patients in any environment. In the current landscape, the easiest way for team members to stay connected to the right data at all times is through mobile applications. That's why we designed the Acute mobile app, to give healthcare professionals access to real-time patient requests, critical information, and patient records in one handy user interface.
Access to all of this information means that professionals can transform a patient's quality of care by quickly and accurately assessing and responding to their needs. In an environment as fast-paced and changeable as healthcare, mobile apps like Acute make it easier for professionals to stay ahead of the curve, even when they can't immediately interact with patients. What's more, because they can access a wider variety of information from their smartphones, these individuals can also assign specific healthcare tasks to different members of staff depending on the needs of the patient. For instance, Acute assigns users to different priority levels according to particular alerts, so they can determine what kind of expertise and response is necessary for life and death situations.
Recently, we implemented our Acute healthcare mobile apps into the Gunma University Hospital, distributing smartphones to engineers, nurses, doctors, and administrative hospital staff. Access to in-depth information about patient needs in real-time meant that the people in Gunma hospital could more efficiently manage their assets and make critical decisions about where to send staff resources at speed. What's more, the push-to-talk feature on the Acute app meant that users could communicate with members of their group more rapidly during emergencies, allowing for a quicker and calmer management of critical events.
Sensors in the Health Industry
The potential of the Internet of Things is expanding rapidly across various verticals. We've seen the rise of numerous connected devices in recent years, ranging from sensor-enabled smartwatches to fitness trackers, connected security systems, and more. Now, IoT is beginning to make its way into the healthcare space too.
In June 2018, data from the ASCO Annual Meeting revealed that smart monitoring systems that could track cancer patient symptoms from a distance helped to simplify care for both patients and their care providers. It ensured that professionals could see emerging side effects from treatments, and discover which treatments were most effective for their patients, without being always around to evaluate them in-person.
Sensors that monitor, collect, and analyze biometric data, along with location, movement information and more in real-time are becoming increasingly important to the quality of care. Deltapath has even been making its own strides in this area by integrating with one of the world's most advanced smart mattresses in Japan. These mattresses are equipped with sensors that communicate patient status to healthcare workers through the Deltapath Acute healthcare app. Using these intelligent sensors, healthcare workers can get instant alerts when patients wake up, then communicate with those patients that their breakfast is on their way or ask them if they need anything. The same sensors in the intelligent mattress can also register information about a patient's heart rate and whether it's irregular. With a notification via Acute, healthcare providers will be able to communicate with the patient, keep them calm, and let them know that they'll be there to help as soon as possible.
In the case of an emergency, instead of making announcements via hospital intercoms, healthcare providers could use Acute to reassure nervous patients and keep track of their condition from a distance using insights from the intelligent mattress.
Higher Demand for Data and Analytics
As professionals in the healthcare industry come under increasing pressure, and turn to technology for assistance, the amount of data that these companies are collecting is more significant than ever. Fortunately, this presents businesses with a unique opportunity to transform that data into valuable insights. Already, we're seeing a broader trend in multiple industries towards data-driven decision making. Companies with access to the right IoT technology and smartphone applications in healthcare will be able to explore this data-driven approach to transforming their quality of care.
When combined with analytical and artificial intelligence solutions, the information you gather from your mobile apps and healthcare technology will allow you to pinpoint trends in the kind of care you deliver to your patients. Healthcare companies can then use this data as part of a predictive analytics strategy that allows them to invest in the right opportunities for the future of their business.
For instance, if you notice from the information you've been gathering that you tend to see more patients pressing their call buttons during a particular time of the week, then you'll know that you need to have extra staff available during those times. If your IoT sensors inform you that people in a specific ward generally prefer to get reassurance from nurses via a video call, rather than an instant message, you'll be able to provide your nurses and doctors with this information, to help them customize the care that they provide.
As you gather useful operational data, you can even embed notes and essential details into apps like Acute from Deltapath, to ensure that users have all the contextual data they need to support patients with complex health requirements, or special needs for care. For instance, if you notice that a particular patient always presses a call button at the same time each night, your care providers could start sending a message to the patient at that time to ensure that they're okay.
Healthcare Is Becoming More intelligent
In the age of digital transformation, countless verticals are becoming smarter, and more convenient thanks to the implementation of technology. We're living in a world where healthcare companies no longer have to settle for phones and nurse call tools that leave healthcare professionals in the dark. Data analytics, artificial intelligence, apps like Deltapath Acute and IoT sensors can all provide health providers with the information they need to deliver an unforgettable quality of care.
Technology could be the cure to the inefficient and inconvenient practices of traditional healthcare environments.