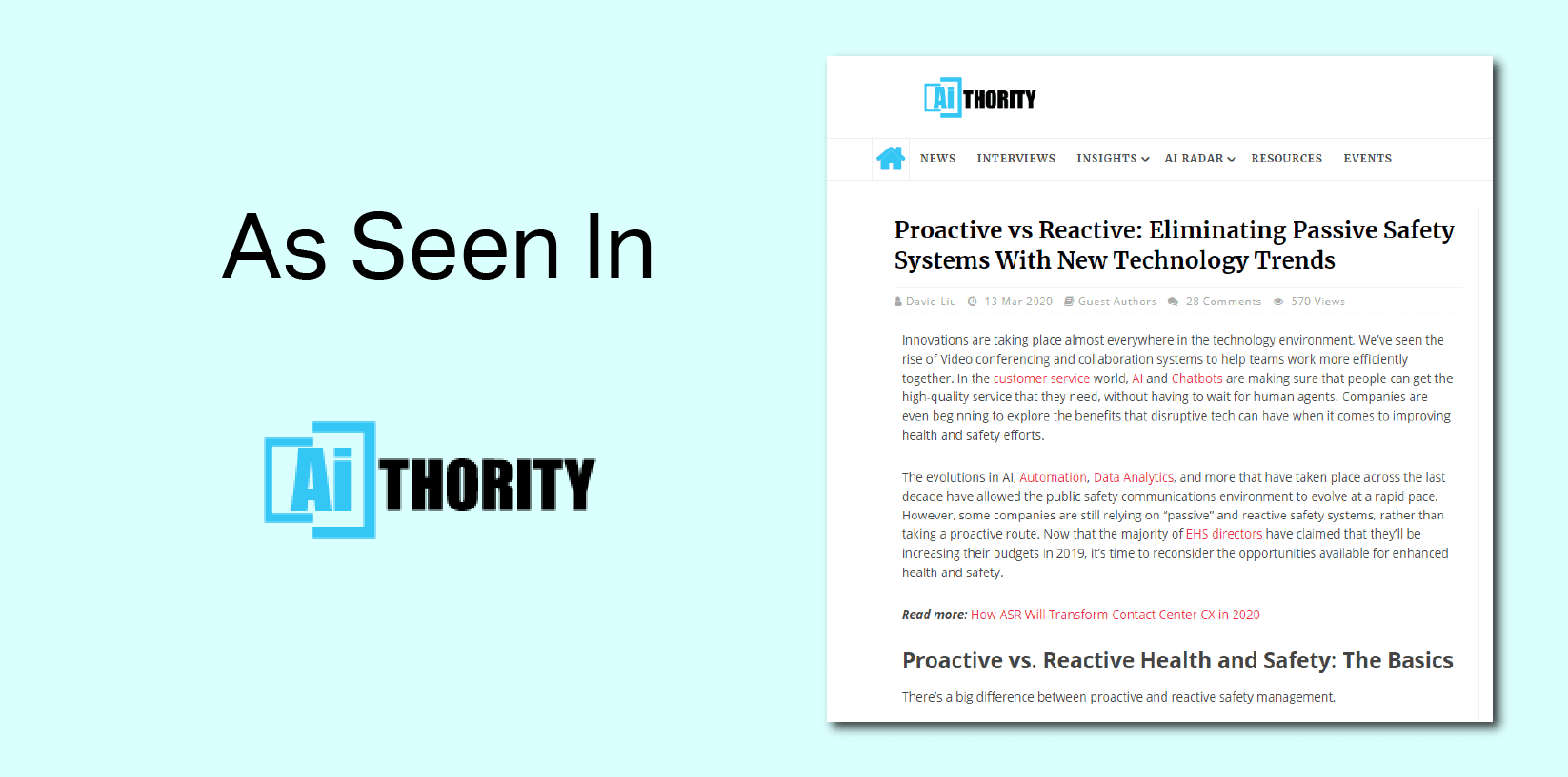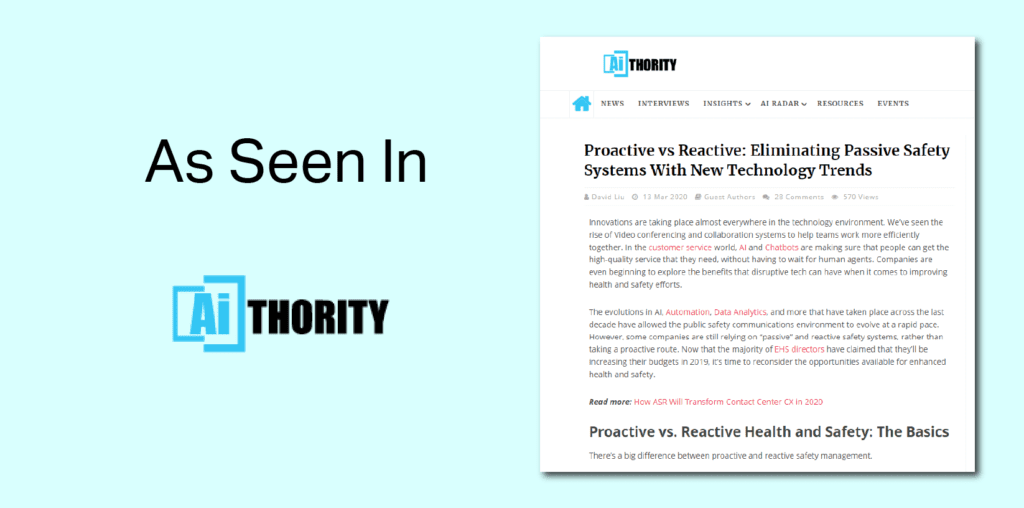 Innovations are taking place almost everywhere in the technology environment. We've seen the rise of Video conferencing and collaboration systems to help teams work more efficiently together. In the customer service world, AI and Chatbots are making sure that people can get the high-quality service that they need, without having to wait for human agents. Companies are even beginning to explore the benefits that disruptive tech can have when it comes to improving health and safety efforts.
The evolutions in AI, Automation, Data Analytics, and more that have taken place across the last decade have allowed the public safety communications environment to evolve at a rapid pace. However, some companies are still relying on "passive" and reactive safety systems, rather than taking a proactive route. Now that the majority of EHS directors have claimed that they'll be increasing their budgets in 2019, it's time to reconsider the opportunities available for enhanced health and safety.
Proactive vs. Reactive Health and Safety: The Basics
There's a big difference between proactive and reactive safety management.
Proactive health and safety solutions keep you ahead of the game, resolving issues before accidents and incidents occur. In the manufacturing environment, or even the energy production industry, this can reduce the risk of catastrophic faults and machinery breaking down. Proactive safety inspections, reports delivered from connected devices, and more all form a more effective strategy to keep your business protected.
Reactive health and safety management, on the other hand, is all about dealing with accidents, issues, and other incidents whenever they occur. With passive safety strategies, it's often too late to respond to a problem in advance and prevent it from getting worse. Instead, you're just cleaning up whatever mess was caused.
Thanks to the rise of specific trends, like Mobile technology, the Internet of Things, and Artificial Intelligence, there's now a more extensive range of potential "proactive" options available in the market. Let's take a look at some of the biggest trends transforming the EHS space.
1. Mobile Growth
Around 81% of Americans own a smartphone, according to Pew Research. What's more, people aren't just using their phones at home – they're relying on these devices when it comes to managing things at work too. Organizations are beginning to implement BYOD (Bring your own device) policies and robust Cloud platforms to support mobile work.
While there are some security threats to consider with mobile devices, like making sure that people can't access your private data when a device is lost or stolen, these tools are also highly beneficial too. With a mobile phone, employees can instantly access incident applications, mobile inspection tools, and alerts to keep them secure when they're at work.
The best mobile tools will even allow employees to stay connected through push-to-talk systems that facilitate calls and one-touch connectivity wherever employees might be. Moving forward, new developments in the mobile world, like the increasing availability of 5G technology, will also make it easier for companies to access a range of excellent features for their teams and employees.
For instance, in the Healthcare environment, 5G will ensure that even responders in rural locations can stay connected as they search for and support survivors after a natural disaster take place. 5G will even allow people to send 4K and HD videos to their colleagues, to bring more context and information into a conversation.
2. Wearable Technology and Intelligent PPE
Wearable devices are popular in both the consumer and business worlds. From a consumer perspective, a wearable device like a smartwatch makes it easy to manage messages, check the time, and even track things like heart rate and blood pressure in seconds. In the Healthcare environment, wearables are also becoming valuable parts of the telemedicine world, giving doctors and surgeons an opportunity to track patient health and recovery from a distance.
In business environments, smart personal protective equipment, or "PPE" can also record, collect, and manage biometric, movement, and location data in real-time. This makes it easier for health and safety operators to track the status of employees in a team. According to the Verdantix 2018 Global EHS survey, approximately 22% of professionals expect that they'll be using wearables to monitor vital signs in their enterprise environments during 2019. Additionally, another 44% plan to use wearables to track environmental conditions and 43% will be using these tools to track location.
Business leaders could potentially hire developers to build applications that offer dynamic advice to people in their workforce based on the information collected on wearable devices. For instance, if a person's heart rate remains elevated for too long, then they might get a notification telling them to sit down and drink a glass of water.
3. Automation and AI
Both Artificial Intelligence and Automation are areas that have started to drive more attention in recent years. Both of these areas are now having a positive impact on virtually every industry. The right Artificial Intelligence tools can even track the health of critical systems in nuclear reactors and dangerous environments, reducing the risk of core meltdowns and disasters.
By combining Automation and AI offerings, service providers are constantly finding new ways to update health and safety systems, making environments more intelligent and convenient. For the public safety environment, for instance, it's possible for automated systems to send data back from sensors in a street that would allow the government to track upcoming changes in the atmosphere or potential environmental disasters. In a manufacturing plant, an AI system could follow the performance of a system and send an automated alert to a technician when a problem is detected.
Sub-sections of Artificial Intelligence, like facial recognition and biometrics systems, are also driving excellent opportunities for better health and safety. For instance, a facial recognition system could automatically check that the people asking for access to your office environment or manufacturing plant are listed on your employee database.
Achieving Tech Synergy With Proactive Tools
The opportunities available in the health and safety environment are limitless in our new age of technology. However, it's essential for businesses in any sector to think carefully about how they're going to make sure that all of their software and hardware works seamlessly together.
Making the most of your health and safety strategy isn't just about embracing the latest technology and innovations as they appear. Instead, you need to think carefully about how you can transform your company.
For instance, could you use AI to coordinate and manage incoming data from IoT devices that monitor your entire factory? Can you integrate your monitoring system and notify the relevant first responders of a potential crisis before it turns into one? How do you keep track of your notifications and measure the response time of your workforce. How do you increase visibility and accountability? Simply sending a text message or an email to the relevant parties are simply too passive.
How will you be upgrading your health and safety strategies this year?